Christmas tree with bells
It's enough to get bells of different colors and fairy lights. The best is the story!
Is cute this Christmas tree full of colored bells, isn't it? but besides being nice it has another virtue, it tells a story of Christmas, all dedicated to children. Fairy Elle, the fairy kid, reads the story of the tree with bells. Would you like to read more stories by Fairy Elle and decorate your Christmas tree with your children?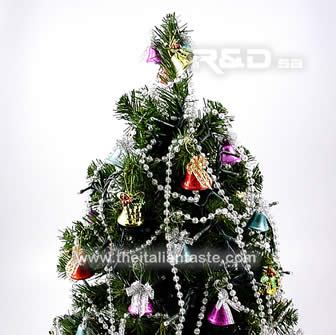 How to decorate the Christmas tree with bells


zoom »
This tree with bells is really easy to decorate. Here are the instructions!
- Begin to arrange Christmas lights placing them as much as possible inside, towards the central trunk.
- Hang your bells and try to mix their colors uniformly.
Complete your decoration with the top: use bells of all colors.
- Decorate with bead strings.
Look at the photo for more details.
- Download and print the story. Roll the sheets, tie them with a ribbon and place them close to the base.
Read the story to your guests with the help of your children, especially if they are kids too.
Note for you, parents:
If you already have at home bells of different colors you can vary their colors in the story :))
Rate this!
Rating: 5 / vote cast: 1