Handmade Christmas balls
Christmas balls made with felted wool
Needle felting wool technique allows many different applications. You can do a lot of items, including Xmas decorations. Look at these Christmas balls. Their colors are different, even different are their finishes. You can place them on your Christmas tree or hang on the door, in other words where you prefer. Beautiful, easy to do, make them with the help of your children.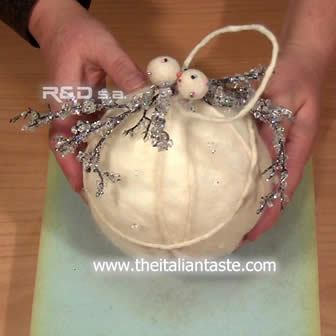 You will need
- Dense polystyrene spheres (12cm diameter)
- Multineedle tool to felt the wool (Clover). Use a tool with safety cover that can be locked when not in use if you have children around
- Felting wool of different colors (Clover)
- Mold to create petals (not strictly necessary)
- Felt little balls, pearls, branches with crystals ....
- Felt cord
- Hot glue gun
- Scissors
This time I focused on two videos, rather than on a detailed description. The first shows you how to make DIY Christmas balls starting from polystyrene spheres and felting wool. The second shows you other versions and is shorter than the first.
Sorry the video is in Italian. As soon as possible we'll do the translation.
I learnt this technique at Abilmente, an Italian fair in Vicenza.
You can make big balls like mine to hang from the ceiling or put on the furniture or make much smaller balls to decorate your Christmas tree.
How to make DIY Christmas balls with needle felting wool
- Choose the colors of the wool you prefer.
- Place few tufts of roving on your polystyrene sphere.
- Using a multineedle tool, punch until fibers transfer inside the polystyrene as you can see on the video.
- Cover all the sphere uniformly.
- Roll the felt cord around the sphere, securing it at the top with hot glue.
- Make the last finishes as we show you on the video or according to your fancy.
- Remember to make a small loop if you want to hang it.
Rate this!
Rating: 5 / vote cast: 1