Christmas door decoration in red
An original idea to decorate your front door for Holiday season, especially New Year's Eve party
What is the preferred Christmas color in the world? Without any doubt RED. So I show you my new idea to decorate your main door for Holiday season. I added a little elf, a surprise for your children. A bit of mystery never hurts anyone. He seems to show the way to the guests by lifting a curtain ...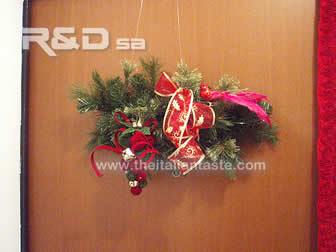 How to adobe your Christmas door in red color

Decorating the house for Christmas or New Year's Day is not difficult. A lot of people prefer red. And so this might be the decoration right for you if you like red too.
- Take the measures of your door.
Keep in mind, in making the measurements, the angle you need to do.

- Buy a red ribbon enough high to obtain the result you can see on the photo.
- Fix the ribbon using several little pieces of patafix.
- Fix the little bird and the other ornament on the pine branch.
Look at the photos for more details.
- Tie the red ribbon.
- To hang the pine branch: bind fast the end of the pine branch in two or three points with some very long nylon thread pieces and tie them together to the handle of the opposite side by passing them over the door.
- Your decoration is ready!

Rate this!
Rating: 5 / vote cast: 1