Christmas wreath with the crib
Easy-and-quick-to-do door Christmas decoration to make with your kids too
Quick and easy but beautiful Christmas decorations? this might be an idea. It is a Christmas wreath in which you can admire a very small crib. This is done in 10 minutes and you do not need much material. Wrap a winter branch around a garland made of woven twigs. Glue the characters of the Holy Family in half a coconut. Fix the coconut on the garland. A bow and your decoration is ready!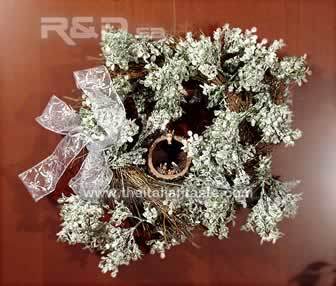 How to do a door Christmas wreath with a little Nativity
- Choose a wicker wreath or a wreath made with woven twigs.
- Twist your branch around the wreath securing it at the beginning and at the end, with little pieces of green florist wire.
- Fix the characters of Holy Family inside the coconut with the hot glue gun.
Let dry thoroughly.
- Now fix the nut on the bottom of the wreath with hot glue.
- Make a deep bow with your white ribbon.
- Look at the enlargement of our photo for more details.
- Your Christmas wreath is ready!
How to hang your Christmas wreath: tie firmly the upper part of the wreath in two or three points with long pieces of the nylon thread and secure them to the handle of the opposite side by passing them over the door.
Rate this!
Rating: 5 / vote cast: 1