Simple and easy-to-do Xmas wreath
Christmas wreath you can do in 5 minutes. You'll need little and spend little.
DIY, fast and cheap Christmas decorations? I suggest this simple wreath that can also be made with recycled decorations from past years. I chose some flowers and birds with fashionable colors: green, white and silver. You can use whatever is suited to moss. The winning choice is in fact the wreath covered with synthetic musk.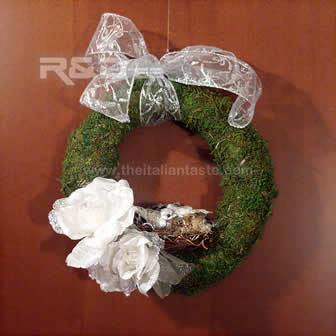 How to decorate a wreath in a simple way and few minutes
The wreath I propose is very simple, but its beauty lies in the delicacy of its colors. Whatever you want to realize rely on your good taste and do not mix too many colors together.
- Fix the flowers and bird nest with pieces of green florist wire, well hidden.
- Tie the ribbon at the upper end of your wreath and make a bow.
- Look at the photo and its enlargement for more details.
- Your Christmas wreath is ready!
Hang your Christmas wreath: tie firmly the upper part of your wreath in one point with a long piece of the nylon thread and secure it to the handle of the opposite side after passing it over the door.
Rate this!
Rating: 5 / vote cast: 1