Christmas faggot decoration
How to decorate a bundle of twigs by hand for holiday season
It is now some years we Italians see decorated fagots for sale in flower shops or plant nurseries but what I propose to you is special for the choice of materials. Look at the details in the photos. I myself created the glitter on leaves and flowers because the ornaments on the market seem to me too iridescent (dare I say "tacky"). Undoubtedly it is expensive but the result is fantastic. Do you agrre? Place it at home, shop, office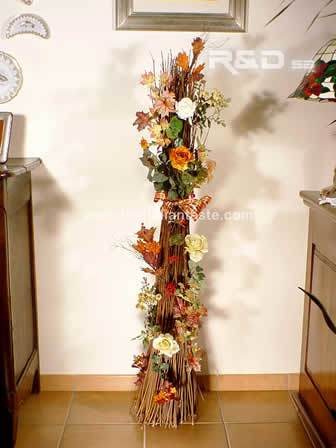 You'll need
- A bundle of long twigs tied together
- Branches with autumn silk leaves
- A long branch with red berries
- Some little branches with brown berries and leaves
- 3 white silk roses
- A branch with orange silk roses
- Some branches of little cream silk roses
- 39in silk ribbon with red, orange and gold colors
- Spray glue
- Red, green and golden glittering flakes
- Iridescent color in flakes
- Cutting nippers
- Scissors
- Hot-glue gun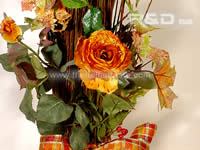 How to decorate an elegant refined faggot for Christmas
- Prepare flowers and branches with leaves.
Spray white and cream roses with glue and sprinkle with gold glittering and iridescent flakes at once.
Repeat the same operation with orange roses but in this case use red glittering flakes.
You can also sprinkle rose leaves with green glittering flakes.
Spray branches with brown leaves and berries with glue and sprinkle them with red and gold glittering flakes at once.
The same operation is more difficult for branches with autumn leaves. In fact in this case you have to be very careful: after spraying glue, you have to sprinkle red areas of the most leaves with red glittering flakes, yellow areas with gold ones and green areas with green ones.
If you like, sprinkle iridescent flakes too.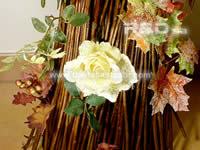 - If your branches are too long, you have to cut them with the help of your cutting nippers.
- Now, looking at the photo for more details, insert every stalk of all your ornaments among the twigs: hide them well. You can also use an hot-glue gun.
- Tie up the ribbon around your bundle of kindlings.
Your decoration is ready!
Rate this!
Rating: 5 / vote cast: 1