Christmas door panel decorations
Decoupage on canvas to make unusual Christmas ornaments
If you are tired of the usual Christmas wreath to hang on your main door, this could be an alternative proposal. Ideal for those who love DIY Christmas decorations. This door decorating idea is very simple and doesn't require a long time. In addition, I see it very well in the background of a window shop too.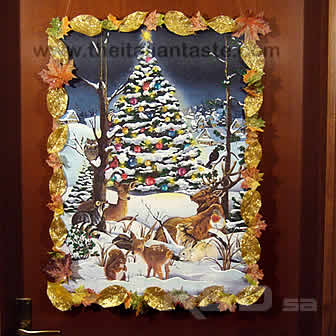 You'll need
- decoupage sheet (especially rice paper) featuring Christmas or winter image
- a canvas with similar size to decoupage sheet you've chosen
- "Color 3D" that is acrylic colors containing water.
- iridescent glitter glue in different colors
- decoupage glue
- buffer pad
- little brush
- scissors
- resistant nylon thread
- various decorations for the edge of canvas or if you prefer snow or ice paste (both require spatula)
How to prepare your Christmas door panel (two examples)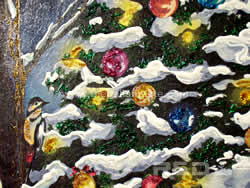 - First of all you have to choose a decoupage sheet, preferably in rice paper, with the image you like.
I made two panels respectively with Christmas and winter image. In the second case, you have the advantage of keeping exposed this panel on your door in the weeks immediately following Christmas.
- Then you have to buy a canvas with very similar dimensions to your decoupage sheet.
- If you already have 3D pens at home, make sure that your colors are those prevailing on your image. Otherwise stock up missing colors.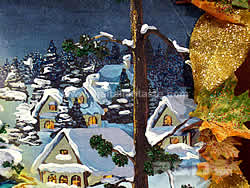 - Now you have to glue your decoupage sheet on the canvas.
Take the measures very well to center the sheet on the canvas.
Lay out your sheet and begin to moisten its back with a sponge soaked in water and squeezed.
Then place the decoupage sheet on the canvas.
At this point brush the decoupage sheet with the glue, evenly.
Let it dry vey well.
- The second step consists in emphasizing various details with acrylic colors 3D. Choose for example the details of leaves, animals, balls or berries, deposited snow ... To accentuate the snowdrifts you may also use the ice or snow paste that have to be applied with a spatula.
The emphasis in 3D shouldn't be excessive.
I also used iridescent glitter glue in different colors to underline gold, red and green of some details.
Let all dry very well.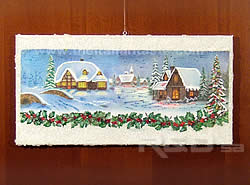 - In most cases, you should think of the canvas edge.
I pasted golden leaves alternated with autumn silk leaves in the bigger panel. I used a few drops of hot glue to fix them.
In the second panel I spread the ice paste all around as you can see in the photo.
- Let all dry.
- Your panel is now ready!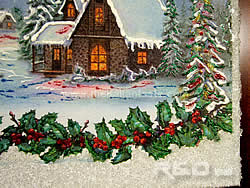 - To hang the panel fix two eye bolts on the canvas in which you'll insert a long piece of clear nylon thread. Collect then the two ends, make them pass on the upper side of the door and bind to the handle of the opposite side.
Rate this!
Rating: 5 / vote cast: 1