White decorating ideas for Xmas tree
Let's compare different ways to decorate our Christmas tree with white ornaments
White is very fashionable in Christmas decorations in recent years. I will tell you more: white, snow, ice ... have you noticed? The more climate goes crazy and gives us mild days in winter, the higher it is our desire of frost-effect decorations. But it is not so simple to decorate our Christmas tree in white. I have seen many of them in trade shows, lobbies of hotels and jeweleries. A little less in large shopping centers and homes. Why? because it is not very easy to adobe a pine in white. Here some examples!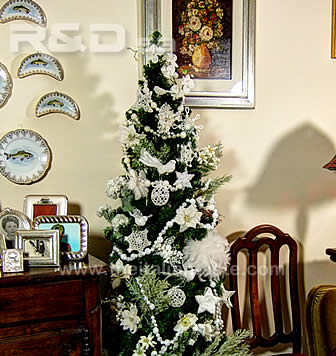 The difficulty of decorating a pine tree for Holiday Season only with white decorations is in the final result that may be too banal. So it is imperative, for example, alternating opaque and shiny objects, milky-white and crystalline ornaments. In other words, you have to insert light points. In the examples that my husband and I made at our home we tried to make you actually see what I'm writing about.
If you have bought a frost or snow pine tree and are wondering how to decorate and turn it into a beautiful Christmas tree, you've come to the right page ;))
How to decorate your Christmas tree only with white ornaments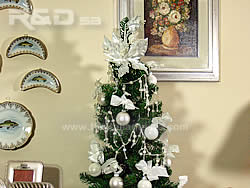 First example
- First example.
Matte and shiny balls are alternated and placed, one after the other, creating a spiral effect. They are tied to pine branches thanks to white bows with a satin edge. Swarovski crystal chains are inserted between these rows of balls. Pine top is decorated with a large flower with satin iridescent leaves (hardly visible in the picture).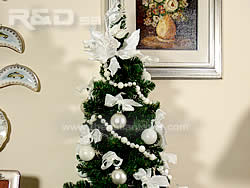 - Second example.
Type and location of Christmas balls remain essentially the same, included top decoration.
I only changed the type of chains. Even in this case, the chains I chose are embellished with iridescent balls.
Overall this decor is very simple.
Which do you like more?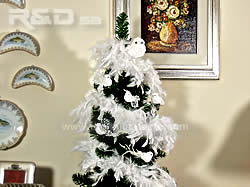 - Third example.
Here I completely changed type of decorating idea. White feather boa is the most important element and I placed birds of all sizes, always strictly whites, among its coils.
Some of them have beads on their wings. Others have crystals among their feathers.
However, it's always essential to plan points of light in my opinion.
This Christmas tree has the advantage to be decorated in a few minutes, really!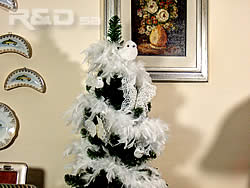 - Fourth example.
What is the difference? someone may be wondering ... there is a difference.
I used some butterflies instead of a certain amount of birds.
Butterfly types, currently on the market, with large wings made with lace or tulle and crystal inserts are ideal for Christmas trees.
Definitely, they break up the monotony of white with their light and delicate texture.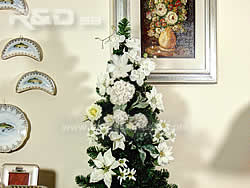 - Fifth example.
I love this version very much.
Maybe because I love all flowers :)
All the flowers I used are fine. Hydrangeas, poinsettias, roses, edelweiss, orchids, the stangest flowers that you can find, made ​with different techniques to handle your Christmas tree.
Try to choose flowers with silvery foliage to break up white and insert someone with frost or snow effects too.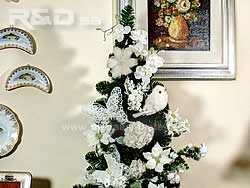 - Sixth example.
At this point, after all these single-issue examples, I mixed the cards.
Do not you think this is an optimal solution?
Flowers, birds, butterflies .... expertly mixed to create different lighting points and have a bright and refined effect at the same time.
Perhaps this is the real secret for a nice decorating Christmas idea using only white ornaments.
Then, the more ormaments you have, in different types, the more beautiful your Christmas tree will be. The only drawback is their cost!
- Seventh example.
Back again on the variety of white decorations. Let's see better the photo on the top of this page.
You can see flowers, various animals, iridescent chains, different balls made from lace or feathers, star-shaped ... and even sprigs of silver green pine that break up the color and fill Christmas tree further. You do not even need fairy lights. What do you think about? I like it very much.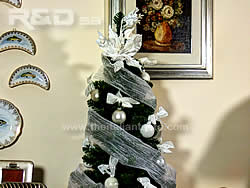 - Eighth example.
This is the last tip of mine to let you know how not to decorate a Christmas tree oonly with white ornaments.
Balls and satin strips can be a good combination. What is wrong, in my opinion, is the amount of ornaments. If you like monochromatic decorating ideas, you have to insert many ornaments.
But this tip applies to all colors! Do you agree?
Rate this!
Rating: 5 / vote cast: 1