Ideas for pine Xmas centerpiece
How to use the same garland to make different Christmas centerpieces
All the centerpieces that you can see in this page are made with the same garland. I used a 32in long garland and gave it different shapes. Everyone is garnished with different Christmas ornaments. So you can see a great variety of examples for your Xmas table or your pieces of furniture.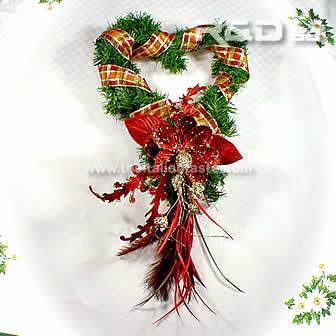 How to re-use the same garland to adobe home at Holiday season: every year a different decoration!
- A red heart for a romantic Christmas . You can use it for the table or for decorating a particular corner of your home; you can also use it for a door.
Give the heart shape to your garland and fix the two ends.
Roll up a 68in ribbon and hide its two ends behind.
Fix a flower on its tip. I suggest you not to glue it but to tie with a little piece of green wire. In this way you can use it for other decorations.
I chose other decorations with gold, red and orange colors but it's only a suggestion! Click on the image to enlarge it!
- Christmas = red. Here it is the typical Christmas wreath! You can use it as a centerpiece or a decoration for a piece of furniture.
You'll need some red silk roses, pine cones, little and big decorated Christmas balls, red ribbons, dry flowers and a candle.
Give your garland a circular shape and place it on a serving platter.
Arrange all the decorations you have chosen. You can glue them with a hot-glue gun but everything among the little branches without glue. So you can re-use all.
Click on the image to enlarge it and look better at all details.
- N as the Italian Natale. I gave the garland the shape of letter N that is the initial of Christmas (Natale) for us in Italy. But you can realize the letter C.
Roll up a ribbon with the colors you prefer and fix the ends behind.
Fix some white silk roses sprinkled with golden flakes too. If their stalks are enough long, you can avoid to glue roses and so you can re-use them for other decorations.
Your centerpiece is ready to use!
- A long and narrow centerpiece. I have also thought of people who want to occupy little space in their table.
How to decorate it? I used little green pears, red apples, golden little birds, golden ferns, red silk roses, and red and white poinsettias (all these flowers are sprinkled with golden flakes).
You can glue all these decorations with hot-glue gun or not.
For more details, click on the image to enlarge it.
Rate this!
Rating: 5 / vote cast: 1