Christmas wreath, jewel style
How to make a new door wreath with sequins and beads
It is not difficult to make this wreath but you have to be very patient! in return you'll have a Christmas decoration that everyone will envy. Try it!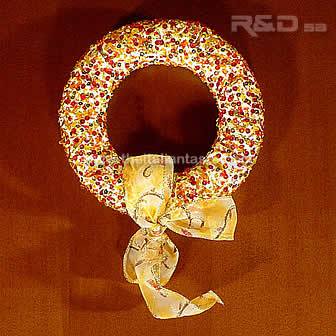 You'll need
- a round base in polystyrene
- modelling fabric (Rayher)
- acrylic colour (Rayher - DecorArt - PatioPaint - 104 Elfenbein)
- liquid beadz- koralle (Rayher - self-adhesive little decorations, ideal for scrapbooking, durable on nearly every surface)
- red sequins (paillettes)
- gold-coloured sequins (paillettes)
- 3D glue for foils (Rayher)
- Christmas ribbon
- a brush
- a flat brush or a spatula
How to make a new door Christmas wreath with sequins and beads
- The day before.
Cut a strip of modelling fabric whose lenght must be twice the wreath one.
Dip this strip in a bowl full of cold water for 1-2 seconds and then apply it along the wreath without squeezing it. Try to make a lot of waves.
Then press the modelling fabric on some points along the border to fix it on the base.
Put aside in a cool place and let it dry very well for at least 24 hours.
- The day after.
Paint the wreath with the acrylic colour. You have to make this step two times.
Let all dry very well.
- Then arrange the little self-adhesive decorations along the front of the wreath.
You can apply them with a spatula or a flat brush.
- Distribute the 3D glue, drop by drop, in the empty spaces among the liquid beads and glue the paillettes (sequins).
The more you fill your wreath, the better your work will be.
- Let your wreath dry very well and then tie the ribbon.
Your wreath is ready!
You can hang it on a wall, a fireplace or your main door.
Rate this!
Rating: 5 / vote cast: 1