Xmas pine branch with golden ornaments
You'll need few minutes to make an elegant decoration for your main door
Are your taste refined? here's a perfect Italian Christmas decoration for you!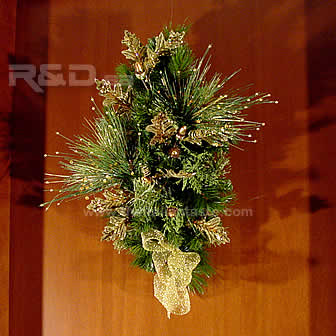 Step-by-step description to decorate a pine-tree branch with golden ornaments in a refined way
- The only difficulty is the choice of the ornaments. They must be elegant and so you have to avoid too garish colors or sparkling ornaments.
The refinements of this decoration is based on the discreet glittering of the golden ornaments that peep among the pine branches. Remember: the pine branches must be the predominant element.
- Once chosen your ornaments, insert the branch with the acorns into the pine branch showing off the acorns and leaves.
- Make equal all pine branches by using your wire cutters.
- Then insert the two maritime pine branches in two different positions.
- Tie the ribbon into a bow.
- Look at the image for more details. Click on the photo to enlarge it.
Rate this!
Rating: 5 / vote cast: 1