Christmas rustic basket
How to turn a rustic basket or a wooden box for fruits in a nice Christmas decoration
This decoration is very simple but very nice. You can make it with twinkling lights or without them. If you think of the global warming and generally all environmental problems and are sensitive to them, the choice is clear. Luckily nowadays you can choose battery-operated fairy lights or twinkle little LED lights. You can place your decoration on a piece of furniture or in a shop window.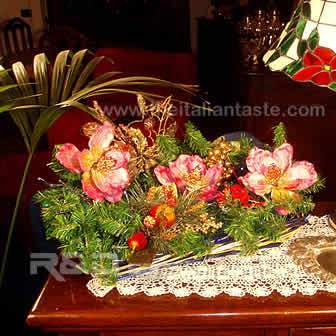 How to make a Christmas decoration in a rustic basket with stuff to be recycled too
- This decoration is very easy-to-do.
Begin with the twinkling lights if you have chosen to use them.
Place them inside the basket rolling up the wire.
Let the wire go out of the basket from the back.
It's all simplier if you use battery-operated fairy lights.
- Cover the wire with the pine garland.
- At this point place your ornaments: all flowers and what you have chosen.
- Look at the photo and its enlargement for more details.
What makes LED lights better than regular old twinkly Christmas lights? Well, here are a few things:
- Advanced LED technology
- Bulbs are fade, chip, peel, and break resistant
- Cool to the touch when lit
- Ultra low power usage (4.8 Watts)
- Up to 76% power savings compared to super bright mini sets
- 25,000 hour average bulb life
- Connects end-to-end
Rate this!
Rating: 5 / vote cast: 2