Flowers and beads
Elegant Christmas decorations made with silk flowers and beads for your furniture
Beads are in fashion in these years, silk flowers are used all other the world to adorne every room at home. Combine both to decorate your rooms in the best way! I'm going to show two examples for Christmastime but remember that you can put them up all year (the second example is ideal for autumn and winter).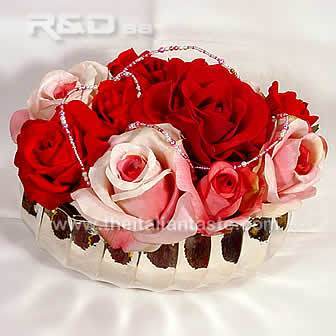 How to decorate your furniture with elegant arrangements made with silk flowers and beads. You can show them in other seasons too.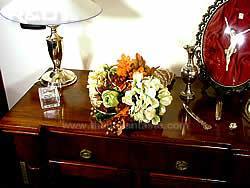 - Choose the holder you prefer. A basket, a jar, a tray, a fruit or cakestand ... Think where you want to put it and choose the right combination of colors.
In the first example I chose the red and all colors that match well with it for a silver basket to put on a piece of furniture whose frieze was decorated with a pine garland dressed with red velvet ribbons and red little Christmas balls.
The second arrangement was created using green, white and brown colors because it was to be put on a solid walnut piece of furniture. On the wall there is a picture made with the coffee grounds.
- The following step is to choose silk flowers. Buy them according to your taste, the shape of the holder and the availability of the shop. Choose always silk flowers because they're more beautiful.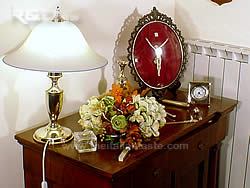 - The other important stuff are beads. Beads must be matched with the dominant colors so as to remind them. Then you have to choose some of them to create some light pots. You can obtain the light spots with white pearls or swarowski beads. Look at the photos and their enlargements for more details.
- Get also a very thin wire on which you have to insert your beads.
- It's very easy to do these decorations.
If the holder is too big for the flowers you've chosen, fill its bottom with wadding cotton or foam oasis used for floral arrangements. Then place your flowers to hide this stuff.
- At this point insert your beads on the wire alternating colors by chance.
Remember to close the ends with a little eyelet. Make some chains of different lenght and then insert them among the flowers as you can see in the photos.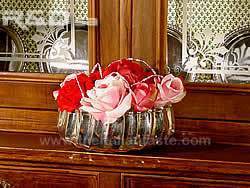 Rate this!
Rating: 5 / vote cast: 2