Xmas day in the kitchen
The best Italian ideas for setting up the table at Xmas in the kitchen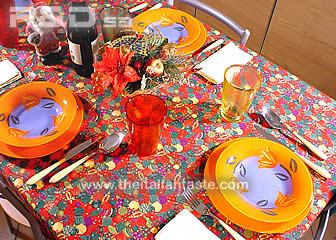 Most of the magazines present the best ways for laying up the table at Christmas adapting them to the dining room.
We want to propose you some ideas for setting up your table in the kitchen; in fact you can celebrate very well even in this room if you make the right choices.
The most important thing is the table cloth.
It must be a coloured Xmas table cloth.
Let's begin with some practical suggestions.
If you want to lay up in the kitchen, you have to plan your menu so that you can prepare in advance the most dishes. You can't think of setting up well your table and then eating surrounded of dirty dishes and pans.
Besides you have to be very tidy. For example you have to prepare another little table or a serving trolley (tea wagon in U.S.A) on which you can put all the dishes, glasses, cutlery, serving dishes ... that you have to use. But think very well where you put all the dirty dishes too!
Now think how to set up your table! We planned three tables in which the most important thing is the table cloth. It's always very coloured. We sewed two table cloths. Both are made with no wide material. So we enlarged the first with a wide plain-coloured border and we hid the seam with a golden lace as you can see in the photo.
The second table cloth is a square and it is put diagonally on another plain-coloured
table cloth.
We propose three different tables according to your necessities.
If you have kids and you can't use china set or crystal glasses, we suggest to follow the colour. Choose the most adapted material for combining the table cloth with the glasses and the dishes you want to use at Christmas day. Look at the photo for more details.
You can find the description of the centrepiece in this page dedicated to Xmas.
The same table cloth is used in another version in which we used crystal glasses and china set. In this case the centrepiece is different. Put some floating little candles in a crystal bowl and surround it with a golden ribbon. Your centrepiece is ready!
In the third example we directed the attention to the elegance. White is the dominant colour from the china set to the first table cloth to the centrepiece. This is made with a precious bowl in which we put white silk roses, spread with golden powder and some white little balls. You can read how to prepare these little balls in this page.
All these examples show you that it's possible to celebrate Christmas day in your kitchen!
Rate this!
Rating: 5 / vote cast: 1