A little flowered garden
Setting the table for Easter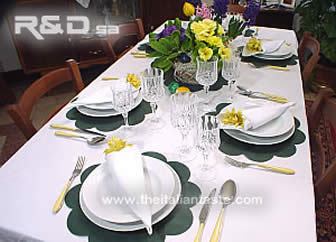 How can I set the table with the same crockery, glasses and cutlery in a different way? How many times did you make yourself this question? No problem. We can help you with simple and cheap ideas, for example with this Easter table.
For this occasion (but the idea is good for every spring occasion), we realized a little flowered garden. The centrepiece is made with little vases of fresh spring flowers and painted hard-boiled eggs that remembers to us the nets of the birds. You can arrange some other eggs on the table. Besides you can plant in the garden all the little plants you've used for the following year.
We rolled up some fresh flowers with the same colors of cutlery inside the napkins. Every guest will be able to take away them as a pleasing gift. You will be able to choose the colors of the flowers according to what you have got. You can also use cloth tablemats with predominant color.
If you want, we prepared simple placecards ; free download here!
If you have any problem,
Other images
Rate this!
Rating: 3 / vote cast: 1