Chicken in the brick

( Pollo alla creta )
Traditional recipe of Italy
What's chicken in the brick? It's a chicken recipe in which you have to use a particular clay pot to cook your chicken. It's a very simple recipe but very tasty confirming the simplier you cook the tastier your dishes will be! And then ... it's a low fat recipe (Mediterranean diet) too, ideal for all the family, your kids included, provided you follow my tips!
difficulty: easy
time: preparation: 20 minutes
cooking: about 90 minutes
total: 1 h 50 minutes
calories: 264 (kCal)
Ingredients / Serves 4
1 1.2kg (2 2/3 pounds)

skinned chicken in pieces

150g (5 1/2 ounces)

low-fat raw ham in thin slices

Sage leaves

1

fresh rosemary sprig, chopped

Salt

Pepper, if you like
Difficulty:

easy recipe

Time:

preparation: 20 minutes
cooking: about 90 minutes
total: 1 h 50 minutes

How many calories in a serving?

Calories:

264 (kcal)

14 %

- 1106 (kJ)
Protein:

47.1 (g)

95 % GDA


Total fat:

8.4 (g)

13 % GDA


Total carbohydrate:

0.0 (g)


Sugars:

0.0 (g)
Download free PDF version (169 download).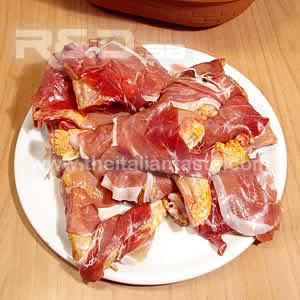 zoom »
Recipe for chicken in the brick
Preparation and cooking
- Preheat oven to 200°C (400°F).
- Season to taste every chicken piece with salt and pepper (if liked).
- Put a little sage leave on every piece and sprinkle with chopped rosemary.
Wrap a raw ham slice round every chicken piece.
- Try to shape the chicken by assembling all pieces.
- Wrap the chicken with the aluminum foil and put in the brick.
- Bake, about 90 minutes.
Just before serving
- Serve your chicken directly in the brick.
Buon appetito!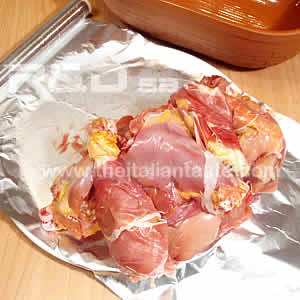 zoom »
Note
Tips
- Before using the brick for the first time you have to immerse it in warm water for almost two hours and then, if you want, to rub a garlic clove on the surfaces that are not glazed.
- You can use dried aromatic herbs instead of fresh ones.
- Look at the photos for more details.
Menu planning
- Accompany your chicken with an assorted green salad. The right serving ofbread is 50g (1 3/4 ounces).
Healthy eating
- The calories of chicken in the brick are not high due to the fact that I remove the skin and evident fat inthe chicken and use very lean ham. The situation is very different if you do not make these steps. Calories are 568 and fats 40 grams. This is the difference!
- Given that the amount of protein of chicken clay is already high I suggest you choose a pasta or rice for lunch seasoned with vegetables. Avoid using other day in protein-rich foods (fish, eggs, meat)
Loretta
What's the right wine for " Chicken in the brick "?
Pair Nobile di Montepulciano (red wine from Tuscany - Italy) to your chicken in the brick.