Bolognese lasagna recipe

( Lasagne verdi alla bolognese )
Authentic Italian lasagna recipe from Bologna
Bolognese lasagna is one of the best known Italian recipes in the world. I'm going to describe a traditional-style lasagna recipe as we are used to do in Italy. This is a recipe from Bologna where lasagna is well made. So we call it Bolognese lasagna. It is made with green egg pasta sheets, ragù (meat and tomato sauce), béchamel sauce, Parmesan cheese and butter.
difficulty: laborious recipe
time: 5 hours
calories: 774 (kCal)
Ingredients / Serves 8
For egg pasta

540g (1.2 pounds)

all-purpose flour, plus more for dusting

3

eggs

330g (11 2/3 ounces)

fresh spinach

Salt

For béchamel sauce

70g (2 1/2 ounces)

all-purpose flour

70g (2 1/2 ounces)

unsalted butter

700ml (1 1/2 pints)

milk

Pinch

of nutmeg

Salt

Pepper, if liked

and ....

100g (3 1/2 ounces)

unsalted butter

100g (3 1/2 ounces)

freshly ground Parmesan cheese

Meat and tomato Bolognese sauce: double the doses of the recipe

9 x 13 x 2in baking pan
Difficulty:

laborious recipe

Time:

preparation:

about 1 hour 30 minutes


cooking:

3 hours 30 minutes


total time:

5 hours

How many calories in a serving?

Calories:

774 (kcal)

39 %

- 3239 (kJ)
Protein:

44.7 (g)

90 % GDA


Total fat:

38.5 (g)

55 % GDA


Total carbohydrate:

66.4 (g)

25 % GDA


Sugars:

7.9 (g)

9 % GDA
Download free PDF version (297 download).
Bolognese lasagna recipe
Preparation and cooking
- Prepare meat-and-tomato sauce, (Bolognese ragout, in Italian ragù).
Follow my step-by-step instructions. Link below!
Generally, I make this sauce 1 day ahead as its cooking time is very long. You need at least 2-3 hours. Double suggested recipe doses to have the right amount.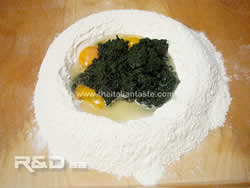 - Prepare egg pasta.
The authentic Bolognese lasagna must be made with green egg pasta whose main ingredient is spinach.
Clean, wash and steam spinach. Let it cool.
Then put through a food mill. Set aside.
Prepare pasta dough with flour, eggs and spinach. Link to my recipe below!
Add spinach and eggs.
Knead accurately to a homogeneous dough.
Roll the dough into a fairly thin sheet and cut into strips suited to your lasagna baking pan.
You have to boil these strips before using.
Plunge them in abundant lightly salted boiling water, few strips at a time, and remove them from the water with a skimming ladle as soon as they come to the surface of the boiling water.
Cool them under running cold water and arrange on a napkin in order to let them dry.
- Prepare béchamel sauce.
Follow my instructions to make béchamel sauce (link nelow) but use the doses suggested above.
Your sauce must not be too thick for this recipe.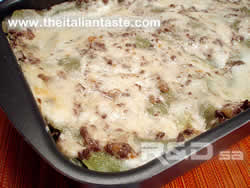 - Assemble lasagna dish.
Preheat oven to 180°C (350°F).
Butter a baking pan suitable for lasagna.
Line the bottom with a lasagna strip and spoon in some tablespoons of meat-and-tomato sauce and béchamel sauce. Sprinkle with Parmesan cheese.
Cover with another lasagna strip and continue until all ingredients are used up.
Remember lasagna top must be made with the béchamel mixed with meat sauce.
Sprinkle with Parmesan cheese and dot with the remaining butter.
- Baking.
Bake until lasagna surface is golden brown, about 30 minutes.
Just before serving
- Remove the pan from the oven.
Wait 5 to 10 minutes before serving.
The portions, in every plate, must be strictly "standing". In other words every pasta layer mustn't slide off. This is the detail that shows your recipe has been made very well.
Note
Tips
- Flour amount for making egg pasta can vary for a lot of reasons, for example how spinach is damp moist.
- Spoon béchamel sauce to make a very thin layer.
Other secrets to make a perfect lasagna are:
there isn't too much meat sauce among dough sheets and it is well mixed with béchamel sauce.
the surface is flat and must be flat according to the original recipe.
Look at the photo for more details.
- If you want a crunchy top, grill your lasagna dish, at least 2 to 3 minutes, in the oven.
- Do you know how tasty is this dish if you have some pieces left and warm them up?
- The recipe I have just showed you is the original, authentic lasagna from Bologna. But it is a long-to-do, rich-calorie recipe. So you can vary the original recipe in these ways.
a) If you aren't able to prepare homemade egg pasta you can buy it. You can find easily ready to bake lasagna sheets, dry or fresh. Generally, they are not made with spinach.
b) You can use a light béchamel sauce. Link below!
c) You can make a quicker meat-and-tomato sauce with these ingredients: half an onion (finely sliced), a carrot (chopped), a celery stalk (chopped), 30g (1 ounce) unsalted butter (or better 3 tablespoons olive oil), 200g (7ounces) ground beef, 150g (5 1/3 ounces) ground pork, 100g (3 1/2 ounces) chicken livers, a glass of puréed tomatoes, pepper, salt. You can decrease cooking time very much to preserve better the nutritional characteristics of all ingredients. In any case this is a simpler lasagna recipe but it is no more the real, authentic Bolognese lasagna!
Menu planning
- If you prepare Bolognese lasagna for your family menu, it is obvious that it is a single-course meal because it includes both pasta and meat. Just look at calories, fat ...
- If you serve Bolognese lasagna in a full menu, it serves much more than 8, even 16.
Useful links for this recipe
Healthy eating
- The original recipe of this Italian lasagna is full of fats, calories and proteins as you can see. The best thing would be to serve it as one-plate meal in your family menu as I have just written. You can complete your meal with a seasonal salad and fresh fruit.
But I recommend you not to eat such a rich-calorie dish very often.
- Half the doses if you want to serve other courses.
What's the right wine for " Bolognese lasagna recipe "?
Pair Lambrusco from Sorbara or Sangiovese from Romagna (both are red wines from Emilia - Italy) to Bolognese lasagna.
Lasagna history
Some writings that belong to 1200 tell us about a sort of lasagna dish. They are not the recipe we know. Women from Emilia in Italy are very good in kneading dough; in the past they have created many successful recipes. Among them there are baked lasagna as the recipe above.