Themed dinner menus
A menu around lasagne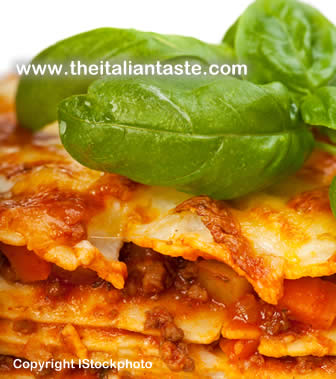 Courses
Wine
Lambrusco di Sorbara (red wine from Italy)
Nowadays it's difficult to combine a menu whose main dish is lasagne. You must know we had the habit, in Italy, to prepare and eat lasagne every Sunday. It was the habit of the past, in the last years of the 20th century. In those years lasagne was only a first course for us! But now we can't eat so much for our sedentary life and so we propose this menu.
The lasagna recipe is full of calories, fats and proteins. Besides this dish is elaborate: it needs about 3-4 hours to make it well. So it's necessary to combine easier and quicker dishes with lasagna. The other courses are made with vegetables and fruit according to the Mediterranean diet.
We suggest to begin with some finger food. Fried herbs and olives, Italy-style. Our suggestion for wine is Lambrusco di Sorbara, a red wine from Italy.
At this point serve your lasagna dish.
After lasagne you could serve a seasonal salad in which you can add apples and walnuts. You can prepare it ahead. The only thing you have to do in the last minutes is peeling and cubing apples; this kind of fruit changes colour in very little time. Dress your salad and serve at once.
The last course is a delicious dessert, a fruit salad made with pineapple, kiwi and candied cherries. You can also prepare it in advance. In this dessert there is Cointreau and so you could avoid serving liqueur at the end.
Enjoy this meal with your firends!