Stew stockfish with potatoes, tomatoes, raisins and pine nuts

( Stoccafisso patate, pomodori, uvetta e pinoli)
Our original home cooking
Stockfish and salt cod come from the same fish, cod. The difference between them is the method of preservation. In fact salt cod is preserved in salt while stockfish is dried in the wind from the sea and contains no salt. So it is particularly suitable for those suffering from high blood pressure, like me. Both are suitable to be cooked with the addition of different ingredients. In this recipe of mine I add potatoes, tomatoes, raisins and pine nuts. Actually, it is a blend of cooking methods from north to south of Italy from which I took the most interesting ideas. Typical example of Mediterranean diet recipe in the right serving.
difficulty: easy
time: 3 hours
calories: 419 (kCal)
Ingredients / Serves 4
900g (2 pounds)

soaked stockfish

1 400g (14 ounces)

can chopped tomatoes

400g (14 ounces)

potatoes

30g (1 ounce)

raisins

20g (3/4 ounce)

pine nuts

100g (3 1/2 ounces)

onion

1 tablespoon

dried parsley

3 tablespoons

extra virgin olive oil

Salt

Pepper, if liked
Difficulty:

easy recipe

Time:

preparation:

20 minutes


cooking:

150 minutes


total:

3 hours

How many calories in a serving?

Calories:

419 (kcal)

21 %

- 1753 (kJ)
Protein:

44.5 (g)

89 % GDA


Total fat:

15.3 (g)

22 % GDA


Total carbohydrate:

26.2 (g)

10 % GDA


Sugars:

11.6 (g)

13 % GDA
Download free PDF version (123 download).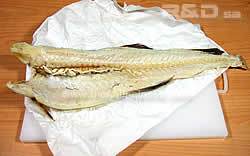 Recipe for stockfish with potatoes, raisins and pine nuts in tomato sauce
Preparation and cooking
- Prepare stockfish.
Remove skin and central bone.
Its skin can be pulled away quite easily from the head towards the tail.
Cut fish into pieces and run under cold water.
Pat dry with absorbent kitchen paper.
- Prepare other ingredients.
Chop onion finely.
Soak raisins in warm water.
- Cooking stockfish.
Put olive oil and onion in a pot (preferably earthenware pot).
Let onion fry slightly on low heat, stirring often.
Then add stockfish pieces and let them brown on both sides.
Add chopped tomatoes in the pot and turn over fish pieces so that they can impregnate well in tomatoes.
Lower heat and continue cooking for about 2 hours, half-covered, stirring now and then.
Be careful heat is set to minimum.
Keep hot water ready, in case it is to be added. But if your cooking technique is correct you should really add very little water in this first step.
Spent the first two hours, taste fish and check your cooking. If you think it's still too hard prolong cooking time, otherwise peel potatoes and cut into chunks.
Add potatoes, raisins and pine nuts. Pour in a ladle of hot water so that potatoes are covered, season with salt and pepper and continue cooking until potatoes are soft.
Just before serving
- Once finished cooking add parsley and stir.
- You can serve immediately your stockfish stew but if you wait a few hours this dish will definitely be tastier.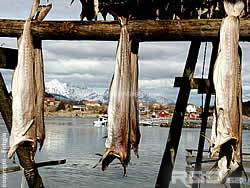 Note
Tips
- Don't worry if your stockfish will break in little pieces in cooking. It's normal. If you want to have big pieces, you shouldn't remove its skin. Really, I don't like the presence of its skin and I always prefer to take it off. Most of the times I ate stew stockfish in the typical Italian restaurants it was in small fragments immersed in a nice thick sauce.
- I sometimes add 4 anchovy fillets to onion and olive oil to flavor my dish.
- If you like garlic, add a clove to onion.
- Cooking times for stockfish are another sore point where opinions are clearly different. Some people make very short cooking, but I prefer long cooking in crock pots. On the contrary I have completely different ideas about meat and in this case I prefer fast cooking.
- This recipe of mine, as I've written above, actually derives from the experience that I got living in various parts of Italy. So I learned different cooking techniques and combinations of various ingredients. This recipe may recall stockfish, Genoa-style without the addition of olives and dried mushrooms. On the contrary the presence of pine nuts and raisins may bring to mind agghiotta cod (Sicily recipe). In fact Italy, including areas not washed by the sea, has developed specific traditional recipes for salt cod and stockfish. In part, these traditions are related to local history and in part to the trade of certain ingredients, so it is very interesting to compare them.
Menu planning
- Prolonged cooking and ingredients suggests to prepare this recipe with dried cod from October to May.
- Prepare this stockfish stew for your family menu and only for get-togethers with relatives and friends whose tastes you know very well.
I sometimes plan my Christmas Eve dinner adding this delicious dish but in much smaller servings. Look at our page dedicated to Christmas for more details.
- Keep in mind that every serving is not excessive and calories are not moderated. So my tip for your family menu is to start with a vegetable soup to increase your fiber intake and give a sense of satiety. Another choice could be a seasonal salad or cooked or raw vegetables, slightly seasoned.
Useful links for this recipe
Healthy eating
- Stockfish stew is certainly a dish rich in ingredients and in calories too. To decrease nutrition facts you could act on the portion of stickfish, quantity of olive oil and maybe to give up pine nuts. Using 150g (5 1/3 ounces) soaked stockfish per head, 2 tablespoons plus 1 teaspoon olive oil instead of 3 tablespoons and eliminating pine nuts, you'll have 328 calories, 34.1g protein, 9.9g fat. On the contrary there are no significant changes for carb and sugars.
- Fiber per serving: 2.9 grams. They are very few. It's the reason why I've suggested a vegetable soup or .
Loretta
What's the right wine for " Stew stockfish with potatoes, tomatoes, raisins and pine nuts "?
My husband and I like very much to pair a rosé wine from Salento (Apulia) or Cerasuolo from Abruzzo to this stockfish recipe. In this case the best choice among rosé wines from Salento is Hiso Telaray produced by Libera Terra Puglia.