Baked turbot

( Rombo chiodato al forno )
Traditional Italian recipe
Baked turbot is a pretty simple recipe because it doesn't require special preparation of fish. It is also very tasty because turbot is cooked along with olives, potatoes and tomatoes. You're going to read my winter version that I tested several times. In summer I generally use fresh chives, parsley and tomatoes. Turbot found in fish market is mostly farmed and then you can cook all year round. Mediterranean diet recipe.
difficulty: easy
time: 1 hour 10 minutes
calories: 365 (kCal)
Ingredients / Serves 3
1kg (2.2 pounds)

turbot

1 400g (14 ounces)

can cherry tomatoes

400g (14 ounces)

-

potatoes

40g (1 1/2 ounce)

green olives, stoned

40g (1 1/2 ounce)

black olives, stoned

1 tablespoon

dried chives

1 tablespoon

dried parsley

A glass

dried white wine

1 1/2 tablespoon

-

extra virgin olive oil

Salt
Difficulty:

easy recipe

Time:

preparation:

20 minutes


cooking:

50 minutes


total:

1 hour 10 minutes

How many calories in a serving?

Calories:

365 (kcal)

19 %

- 1528 (kJ)
Protein:

33.5 (g)

67 % GDA


Total fat:

15.1 (g)

22 % GDA


Total carbohydrate:

25.3 (g)

10 % GDA


Sugars:

5.8 (g)

7 % GDA
Download free PDF version (235 download).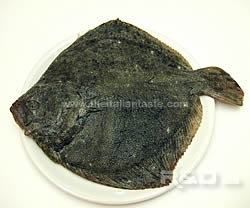 Baked turbot recipe
Preparation and cooking
- Prepare turbot.
Eviscerate turbot if it hasn't already been cleaned in fish market.
Then make a cut on its ventral side, the lightest side, near the gills, and remove its viscera.
Cut its fins all around and remove its tail.
The pictures help you to understand how to do.
Wash your fish very well under running water and remove all slimy part on its surface.
Pat dry any excess water with absorbent kitchen paper.
- Prepare all for baking.
Distribute olive oil in a large baking pan.
Pour in cherry tomatoes with their preservation liquid.
Add green and black olives too.
Peel potatoes and cut into chunks into your pan.
Salt the inside of turbot and add a little herbs.
Spread remaining herbs over other ingredients and salt.
Put turbot on top.
- Bake turbot along with other ingredients.
Bake for 10 minutes.
Then remove your pan from the oven and pour in wine.
Place your pan in the oven again and cook for 40 - 45 minutes.
Remember to spoon cooking liquid on fish surface often.
If you have a convection oven, use this option in the past five minutes.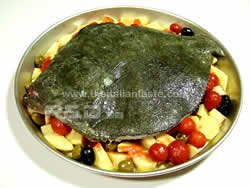 Just before serving
- I usually clean my fish directly in the pan.
I begin by eliminating its upper skin.
If my fish is cooked well its skin can be lifted easily and its head very often comes off too.
Then I remove its central bone and all cartilages that support external fins.
Meanwhile, I put all pieces of its fillets together with the other ingredients.
Then I turn upside down my fish and also remove skin on this side which is the most gelatinous.
At this point I put my pan back in the oven to warm up for a few minutes.
- Serve at once.
Note
Tips
- I think I can say with great honesty that this is the best recipe to savor turbot completely.
- In cooking a delicious not liquid gravy forms which makes this dish really good.
- As I've just mentioned at the beginning of this page it is almost impossible to find caught turbot away from sea places. It is commonly raised nowadays. But it is equally tasty.
Remember that if you want to taste it directly caught the best season for turbot is autumn and winter.
Menu planning
- Baked turbot is a very tasty dish for your family menu or your get-togethers with relatives or friends.
- To calculate servings is not very easy because turbot has a significant non-edible part. Around 50%. I think even more in some cases. So, at the end, cooking a 1kg (2.2 pounds) turbot means you'll have about 500 grams (1.1 pound) edible portion. So I calculated three servings for this recipe. Much depends on how you intend to plan your dinner.
If turbot is part of a full menu, then you can also consider more than four servings.
If you prepare it at home all depends on your habits. If it has to be a main course, perhaps preceded by a soup, then you can also consider 4 servings.
If it is a main course, servings are two or at most three. In the case of two servings, its calories rise to 568.
- This is also a recipe for children.
Healthy eating
- Turbot is a lean fish as you can see from the table with calories, fat and protein.
- Remember: eating fish 2 or 3 times a week is a healthy choice according to Mediterranean diet.

- Fiber per serving: 3.6 grams
Loretta
What's the right wine for " Baked turbot "?
My husband and I like to pair Lison Pramaggiore (formerly called Tocai - white wine from Veneto) to baked turbot. We suggest to have a look at this organic Venetian farmer that produces excellent wines from which we buy numerous bottles every year. Le Carline. Its Lison Pramaggiore is without sulphites!