Fried sardines in sweet and sour sauce

( Sarde in saòr)
Traditiona recipe from Veneto
Fried sardines in sweet and sour sauce is called in Italy sardines in saòr. This recipe is typical of Venice and all the northern Adriatic coast where chefs are used to cover with this sauce a lot of food: tuna, shrimps, radicchio, pumpkin ... delicious!
difficulty: easy
time: 1 hour 20 minutes
calories: (kCal)
Ingredients / Serves 6
1kg (2.2 pounds)

fresh sardines

1kg (2.2 pounds)

white onions

300ml (10fluid ounces - 1 1/3 cup)

white vinegar

30g (1 ounce)

pine nuts

50g (1 3/4 ounces)

raisins

All-purpose flour

Oil for frying

Salt

Pepper, if liked
Difficulty:

easy recipe

Time:

preparation:

50 minutes


plus cooling and marinating time
cooking:

30 minutes


total:

1 hour 20 minutes

How many calories in a serving?

Calories:

n.c. (kcal)

- n.c. (kJ)
Protein:

n.c. (g)


Total fat:

n.c. (g)


Total carbohydrate:

n.c. (g)


Sugars:

n.c. (g)
Download free PDF version (131 download).
Recipe for sardines in sweet and sour sauce
Preparation and cooking
- Prepare sardines.
Scale sardines.
Remove head and viscera.
Wash and let them drain for half an hour.
Pat dry them and dip in flour.
It would be good to remove any excess flour using a sieve but you can also use the colander.
- Heat abundant oil for frying (peanut oil or olive oil).
Fry sardines, few at a time, a couple of minutes, on both sides.
Transfer them on absorbent kitchen paper to remove the excess fat.
Season to taste with salt when still hot.
- Soak raisins in warm water.
- Slice onions very finely.
Transfer all onion slices into a non-stick frying pan.
Pour in a couple of fingers of water.
Cook on medium heat until all onions are transparent. Their cooking liquid should be consumed almost completely.
At this point add vinegar, a couple of tablespoons of the oil used to fry sardines, a pinch of salt and pepper and raisins, well squeezed from their soaking water.
Continue cooking for another minute.
Turn off the stove and add pine nuts too.
- Alternate fried sardines, well aligned, with onion and vinegar mixture in a bowl.
Just before serving
- Let your sardines rest, at least 24 hours.
- Serve them at room temperature.
Note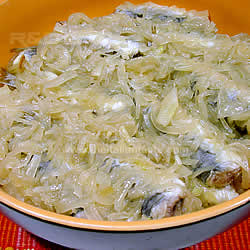 Tips
- If you put the bowl in a cool dry place, your sardines will be stored for even a week.
- What I have just written is the traditional recipe for sardines in saòr to which I generally do a variant. I never use the oil used to fry sardines but I prefer a couple of tablespoons of extra virgin olive oil. The taste is more delicate but the dish is definitely lighter.
- Purists argue that you have to use white onion, but I also use the golden one with excellent results.
- There are many variations to sardines in saòr (many also add sugar). You can read more below, in the section dedicated to its history. On the right, you see another photo of sardines in saòr.
Menu planning
- In the restaurants of the Veneto coast, typically sardines in this sauce are served as an appetizer accompanied by other morsels of fish or vegetables. They are too tasty and heavy to digest to serve as a main course in great quantity.
Healthy eating
- This time, you do not find the calories of sardines in saor. Too problematic to calculate them for fried fish. Experts tell us that we should increase 100-150 calories per hundred grams of fish, weighed after frying. But I'm going to write for you the nutritional value of sardines, onions, raisins and pine nuts per serving. The vinegar is not included because it has no calories, of course ;))
energy: 240 kcal (1003 kJ)
protein: 27.4g
total fat: 8.0g
total carbo: 15.8g
sugars: 15.8g
fiber: 2.0g
Loretta
What's the right wine for " Fried sardines in sweet and sour sauce "?
Match Soave (white wine from Veneto) to sardines in sour and sweet sauce.
A little history
The Saor is a sauce made with vinegar and other ingredients to be poured on the cooked fish, roasted or fried. It is known from ancient times. Practically a method of short-term storage for fish which were fished abundantly at certain times of the year. The fried fish was covered with a marinade in which there was a lot of pepper, cinnamon, onion, garlic, vinegar, oil, parsley and sugar. In the fourteenth century, the "Book for a Cook" of an anonymous Venetian already mentions it. Probably the addition of raisins and pine nuts can be attributed to the customs of the bourgeoisie of the cities more than the habits of rustic fishermen.
The Saor is currently used also for vegetables.