Orange-flavored prawns

( Code di gamberi all'arancia )
Our original home cooking
Orange-flavored prawns is a prawn salad very tasty and easy to do. It's a very low-fat and low-calorie recipe, suitable if you are on diet but it's so tasty you can serve it in a special occasion too. You'll need few ingredients: raw prawns, oranges, orange-flavor liqueur, balsamic vinegar. It's a winter and spring recipe.
difficulty: easy
time: 30 minutes
calories: 103 (kCal)
Ingredients / Serves 2
300g (10 1/2 ounce) raw prawns (shrimps)
2 orange juice
1 orange
1 tablespoon orange-flavored liqueur (Italian arancino)
1 tablespoon balsamic vinegar
Salt
Difficulty:

easy recipe

Time:

preparation:

20 minutes


plus cooling time
cooking:

few minutes


total:

30 minutes

How many calories in a serving?

Calories:

103 (kcal)

6 %

- 429 (kJ)
Protein:

16.2 (g)

33 % GDA


Total fat:

0.3 (g)

1 % GDA


Total carbohydrate:

8.9 (g)

4 % GDA


Sugars:

8.8 (g)

10 % GDA
Download free PDF version (260 download).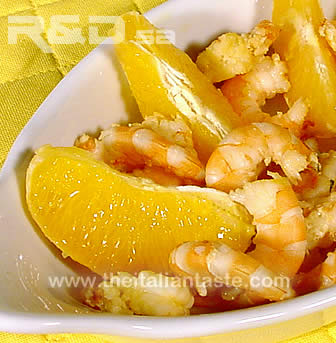 Orange-flavored prawn recipe
Preparation
- Remove shells from the prawns.
- Squeeze two oranges and pour their juice into a little pan.
- Add liqueur, balsamic vinegar and a pinch of salt too.
Cooking
- Bring to a boil this mixture and add prawns.
- Boil one minute after cooking juice starts boiling again.
Turn off the stove and let prawns in cooking juice for another minute.
- Remove prawns with a skimming ladle and let them drain.
Just before serving
- Meanwhile clean the third orange and divide it into its segments.
Peel segments too.
Place them in a plate.
- Add prawns too.
- Your dish is ready!
Note
Tips
- Fresh prawns is the way to go but if you choose frozen prawns you have to thaw them before starting this recipe. The preparation time is longer, obviously.
If you buy whole prawns with their head the right dose is 400 to 450g (14 ounces to 1 pound).
- If you prepare orange-flavored prawns following our directions you have to serve them as soon as possible. If you want to prepare them ahead you have to dress them with a tablespoon olive oil.
- Eat every prawn accompanied with an orange piece to enjoy this recipe!
- As you can see there are two photos. The first with prawns served on the top of blood orange slices and the second with prawns accompanied by blonde prange segments.
Menu planning
- It's a perfect main dish for your

daily menu

or a finger food for an Italian

aperitivo

to plan at home or a course in a

buffet

menu.
Planning an Italian-style get-together in winter? Serve this prawn dish as starter or after first course (pasta or rice dish) and before the second course based, generally, on meat or fish.
The orange-flavor prawns are perfect in a formal occasion: your guests will have no problem with forks and knives!
- This recipes serves 2 but the doses are enough for more people if you prepare a buffet or serve them in a full menu.
Useful links for this recipe
- I think it is important to know well oranges. They are healthy fruits to eat every day in winter and spring. You can use in savory and sweet recipes. Read more details in our special page, follow the link!
- Are you interested in homemade arancino (orange-flavored liquor)? it is easier than you can think :))
Healthy eating
- Have you seen nutrition facts of these orange-flavored prawns? don't believe what you're reading?
But it's true! It's a very low-fat and low-calorie dish. It is a good choice if you are on a diet or, simply, want to eat healthy. Besides it is a clever choice because your diet must never be depressing with tasteless food. One of the pleasures of life is good food. What about it?
The only problem of this recipe is its high cholesterol content. In fact prawns don't have high total fat but high cholesterol. 150mg per 100g edible portion. 255mg is the daily requirement. Then a calculation of the total amount of cholesterol in this recipe leads to the value of 162mg which is not excessive provided that you're within our recommended dose of shrimp (150g per head with shell and 100g if shelled).
It's better you eat this shrimp dish rarely if you have to control your cholesterol.
According to the nutritionists we should eat protein at dinner. The recommended calories for dinner are 500 - 600 for a person with an energy requirement of 2000 kCal per day to be divided into five daily micro meals.
Choose pasta with vegetable or meat sauce followed by vegetables and fruit for lunch to have an healthy daily menu.

- If you want to drink a glass of wine remember you have to add 80 to 85 calories per 100ml.
Loretta
What's the right wine for " Orange-flavored prawns "?
My husband and I always serve Prosecco di Conegliano-Valdobbiadene Spumante (sparkling wine of Veneto).