(Quick fruit-flavored menu)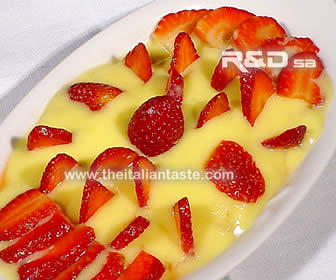 Time:
about an hour
plus preparation time for dessert
Difficulty:


easy menu

This menu is quick and easy. It is a fruit-flavored menu; there are: blueberries in risotto, apples and lemon juice in salad and strawberries in dessert.
You can plan it in every moment of the year because you can always find all the ingredients easily. It doesn't cost very much. Besides our children could like it.

For realizing it, you need to do these steps:
- You can prepare dessert in advance because you have to refrigerate it for some hours.
- Clean salad and put in a large bowl full of water.
- Prepare turkey olives and begin cooking them; switch off gas when cooking juice are almost retired. So you'll be able to complete cooking just before serving.
- When turkey olives are cooking, you can prepare stock for risotto and risotto. You need 25-30 minutes for making risotto.
- Meanwhile change water to salad but remember to control risotto, stirring now and then and adding stock. Drain salad and put in a large bowl.
- Put near you all the bowls and serving platters, so you'll be more efficient.
- Serve risotto.
- During the break after first course, let cooking juice of turkey olives well retire. Peel and cube apples, dress salad. Serve second course together with side dish.
You need about an hour to prepare this meal; dessert is made in advance.
You can add a cocktail and serve it with appetizers while your guests are waiting for risotto. Don't choose spicy appetizers because you could ruin menu flavors.
You can serve a rosé wine such as Cirò rosato.
If you have any problem, .
Greetings from Italy!