Themed dinner menus
Seasonal flavors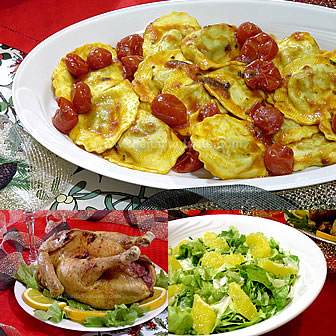 Italian Christmas dinner menu with aperitivo, pumpkin ravioli, capon filled with chestnuts, panettone and fresh fruit.
Tips
- This menu of mine is rich of flavors typical of this season.
Let's begin from "Puccini"; this Italian cocktail is made with sparkling wine and mandarin juice.
The pumpkin is the most important ingredient of pasta rings while the capon is stuffed with chestnuts and sausage.
The oranges, added to salad, give a real Mediterranean flavor to the vegetable.
The grapes jelly is served with a variety of fresh cheeses and this gives an unusual touch of class to the menu.
I remember to you that you have to serve cheeses only at midday.
If you choose this menu for a dinner, you have to eliminate this course.
This menu serves 4 but you may change easily the servings.
If you have any problem, email us.
- Moreover it is easy to do.
Let's begin from aperitivo.
Mandarins can be squeezed in advance and poured into every flûte (the glass for sparkling wine).
At the last minute, you'll add the right amount of sparkling wine into every flûte.
"Puccini" is very easy to do.
You may choose among a large variety of appetizers: green olives, baked black olives, little pieces of "Parmesan cheese", caviar canapés or other canapés, pizza cut into small pieces.
- You can buy ready pumpkin pasta rings. Do you want hand-made pasta rings?
I suggest an easy recipe.
You can season this kind of pasta with melted butter, sage leaves and "Parmesan cheese" or with an easy sauce made with tomatoes, chives, basil, parsley and olive oil.
You can prepare this sauce meanwhile you're cooking pasta rings.
- On the contrary you have to think about the capon in advance.
Chestnuts are to be boiled, about 30 minutes, and then you have to consider preparation time (20 minutes) and cooking time (2-3 hours).
- Prepare your green salad in advance but oranges shall be added at the last minute in order not to lose all their flavors.
You could make it meanwhile pasta rings are cooking.
- You should remember to bring back to room temperature cheeses in order to enjoy their taste.
You should choose fresh cheeses with little salt to combine better them with grapes jelly.
You can buy ready grapes jelly but I also give to you an easy recipe.