Themed dinner menus
Italian Easter menu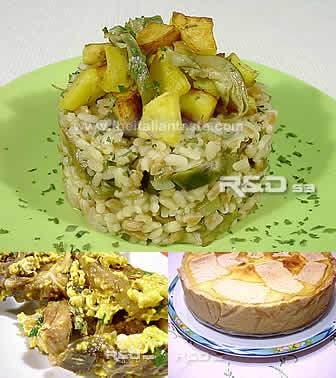 Italian Easter menu with antipasto, risotto, lamb dish and Neapolitan cake
Tips
- I realized this Italian Easter menu thinking about Italian traditions for Easter.
On Easter table there are eggs, cheese savory pies, lamb and a typical cake of the region or Colomba.
- Spring invites us to use its products and we want no more heavy foods, right?
- Besides we have to think we have no much time for cooking as at Chistmas.
- So you can prepare some dishes in advance, the day before.
For example Easter cake and Parmesan ice-cream.
You can also cook lamb.
So you have much more time to stay with your friends on Easter day.
- You can choose a good Italian prosecco to pair to all your dishes, from starter to meat.
An orange-flavored liqueur will be very good served after the cake.