I had learnt how to do a rice salad since I was a child. My mother was a great cook and she was used to do it all year round. I saw her to combine rice with many ingredients: fish, meat, pickled vegetables, bell peppers or mushrooms in oil, peas, beans, salami, cheese ... She prepared the best rice salad on Holiday Season to recycle all leftovers :)) Then in the 80s I tasted my first pasta salad. I have been experiencing since that time what is the best dish. I do not still know. Both taste fantastic! And you? what's your preferred dish?
Let's begin with calories ...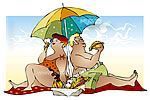 Have you ever thought how many calories are in a rice salad serving? It depends on many things: number and quality of ingredients, doses per serving, dressing ... Read more on the post ;))
Here are my recipes listed according to their ingredients ...