D.I.Y. simple Christmas door decoration
An unusual way to decorate your Xmas main door with fresh pine
Looking for simple and inexpensive ideas to decorate your front door at Holiday Season? Here's a very easy decoration, an exclusive idea of mine! I explain how to decorate a large pine-tree branch with your initials drawn on a Xmas ball.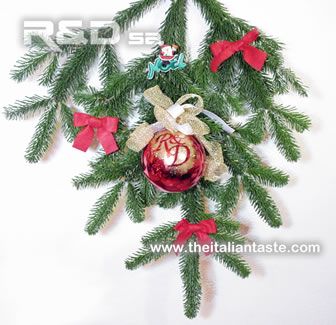 The atmosphere becomes warmer and more welcoming if your home is well decorated at Christmastime, isn't it? I think it isn't necessary to spend a lot for the decorations. Sometimes it's enough a detail that you have never seen anywhere.
Look carefully at the Christmas ball hanging from the real pine-tree branch! There are our company's monograms: R & D. My husband and I think it's a nice idea to show our monograms near the doorbell. I'm waiting for your comment ... for the meantime I'm going to show you how to make this door decoration alternative to the classic Christmas wreath.
How to decorate a fresh pine-tree branch for your Christmas front door
- Prepare the red Christmas ball with the monograms you want.
Click here if you want to find how to make monograms on the Christmas balls step by step.
- Twist the red ribbon with the white one and make a bow on the top of the red ball.
- Then hang the red ball on the branch using the green florist wire.
- Arrange the little red velvet ribbons and other Christmas decorations on the branch. Use green florist wire for this step too.
To hang the Christmas decoration: bind fast the end of the pine branch in two or three points with some very long nylon thread pieces and tie them together to the handle of the opposite side by passing them over the door.
Rate this!
Rating: 5 / vote cast: 1