Christmas ball with monograms
Personalize your Christmas balls
Do you want to renew your Christmas tree but without spending very much? a solution could be to customize its balls with your initials as long as the balls are without decoration. This is a simple-to-do Christmas decoration, so easy that you can do it even if you are not experienced in DIY. You can involve your children and create the right atmosphere.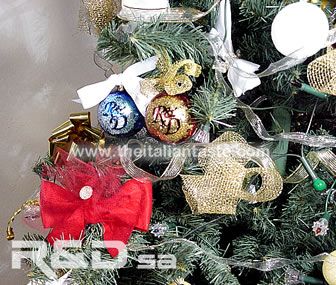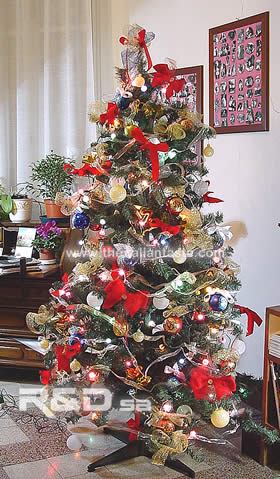 with crafted balls
Our idea is to buy new unbreakable balls for Christmas tree or renew the old balls we have had for many years. Old balls must be undecorated and monochromatic.
Then we'll customize them for example writing our monograms ...
How to write monograms on Christmas balls
- Draw the monogram you've chosen on the paper (initial, company or anything you want).
Adapt its size to your balls.
- Cut out the chosen monogram very carefully.
- If you are familiar with graphics programs, the same thing can be done with your computer and then printed.
You can choose the font you prefer and faster your work.
- Prepare as many monograms as you need.
In fact every monogram is irretrieviably lost when used.
- Glue every monogram on a ball with removable glue.
- Then you've to brush some liquid glue on the monogram and on the area around.
- Sprinkle the glitter powder.
- Let all the balls dry for about an hour.
- Then you've to take away the monogram with the help of tweezers.
- The result is a very sparkling area with your monogram well outlined.
Click here for more details
How to decorate your Christmas tree
We made red Christmas balls decorated with golden glitter powder and blu Christmas balls decorated with iridescent glitter powder.
- We arranged all the red and blue Christmas balls on the tree.
- We added golden and white balls to creat a contrast of colors.
- Our finishing touch: some intermittent lights and golden and silver ribbons.
What about it?
Rate this!
Rating: 5 / vote cast: 1