Christmas door decoration
White roses and hydrangeas on the main door instead of the usual wreath
Looking for new Christmas decorating ideas for your front door? tired of the usual wreath? I show you a new decoration idea with white roses and hydrangeas.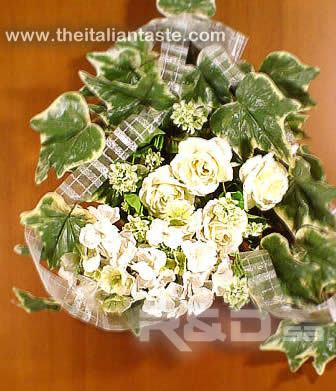 Rose & hydrangea Christmas decoration How-To
It's easy to make this Christmas decoration. The most important thing is to choose high-quality material to have a beautiful thing.
You should use variegated, large-leaf ivy.
If you have little-leaf ivy, you'll much more branches.
- Begin with brushing some liquid glue or sprinkling adhesive glue on ivy leaves here and there.
- Then spread over silver flakes.
- If you want to use this decorations all winter, skip these two steps. Let ivy leaves be natural.
- Arrange ivy branches fanwise on the working surface and then white flowers.
Look at the photo for more details.
- Tie up all stems with green florist wire.
- Cover green iron wire with your silver ribbon making a great bow.
Arrange the edges among leaves and flowers.
To hang your Christmas decoration: bind fast the ends of all stems with a nylon thread and tie it to the handle of the opposite side by passing the thread over the door.
Rate this!
Rating: 5 / vote cast: 1