Xmas door decoration with snowy pine
A pine branch decorated with silk flowers and jewel balls for your main door
Looking for anything new to hang on your door for Christmas? I propose a very refined decoration with jewel balls, in white, cream and green colors. You can also hang it on your shop window or on a wall.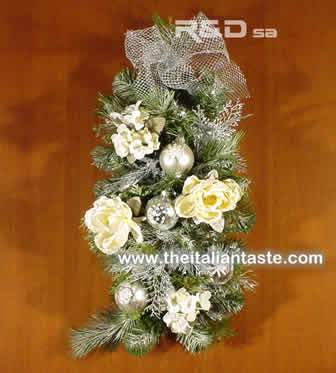 Door Christmas decoration How-To
This composition is very easy to do and it isn't very expensive.
Besides you can recycle some old ornaments.

- Prepare the Christmas balls, jewel-style. Follow the link for step-by-step instructions.
- Sprinkle silk flowers with artificial snow and then let them dry very well.
- Arrange Christmas balls in pine branch using some transparent thread.
- In the same way arrange silk flowers and silver ferns.
Look at the photo for more details.
- Knot the silver ribbon at the top.
- Sprinkle artificial snow directly on pine branch here and there.
Let your composition dry very well.
- Hang on your main door or on a wall.
Rate this!
Rating: 5 / vote cast: 1