Quick and beautiful Xmas wreath
How to make a Holiday wreath in few minutes with old balls and silk flowers
I'm going to teach you how to make a low-cost Christmas wreath. Besides you'll be able to make it in few minutes. The only difficulty is to match colors very well.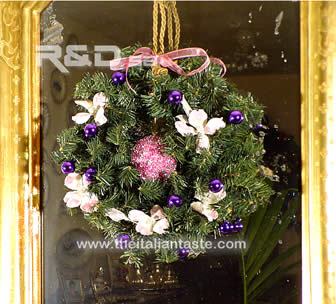 How to choose the ornaments to make a Christmas wreath
In this case I chose violet and pink colors but you could make it with other combinations: red and golden, orange and golden, pink and silver colours.
I used a big ball with pink and silver decorations, made precious with paillettes and strass, 12 little violet-colored Christmas balls and some pink flowers with white shades suitable for Christmas. Finally a little ribbon.
You could also use a glass handpainted Christmas ball.
- Hang the big ball to the wreath as you can see in the photo.
- Insert the flowers among the twigs of the wreath and hang the little balls.
- Use the ribbon to hang the wreath.
- See the photo and click on it for more details.
Note
- You could hang this wreath on the main door or on a wall.
- I made another choice: an old mirror. What about it?
Rate this!
Rating: 5 / vote cast: 1