Christmas wicker pannier
Wicker pannier decorated for Holiday season: new home decorating ideas
Pannier is a wicker or wood basket, usually a truncated cone (reversed and open above), which was used to transport various materials especially in the mountains. My husband and I found one in a store that sells wickerwork and I thought I'd decorate it for Christmas. Very simple job, to do with children too. Hang it underneath the porch, between two doors as you can see on the photo.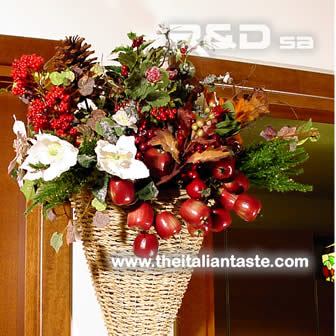 How to decorate a wicker pannier for Holiday Season
- First of all you have to find and buy such a basket.
- It's very easy to decorate a pannier.
- The only thing that is necessary to do is to shorten branches of all items according to the length of your pannier.
- Look at the photo for more details. Click on the image to enlarge.
- Obviously this is only a proposal.
Choose the material that you think the best to fill it.
Even old recycled decorations.
- If line your basket with clear plastic and put a sponge used by florists for flower arrangements on the bottom you can also add fresh tree branches and flowers. The result will surely be better.
Rate this!
Rating: 5 / vote cast: 1