DIY Christmas centerpiece with rose berries
A simple Xmas decoration for people who like natural indoor arrangements
I'm very fond of making Christmas decorations by hand letting my imagination run wild. I've used stuffs of all types but I like very much to work with natural items. Here's one of my ornament made with rose berries and fresh branches picked in my garden before Holiday season.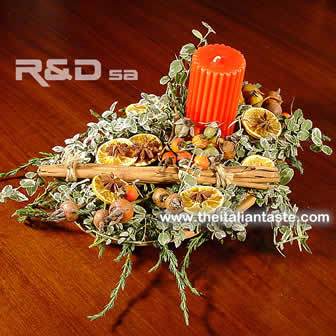 How to make a natural Christmas arrangement with garden and market products
- Use the holder you prefer. I used an earthenware platter.
- I covered it with little pine branches and other branches with white-streaked leaves.
- I put a candle in a corner.
- Then I tied three cinnamon sticks with a little string and put them near the candle.
- As you can see in the photo and its enlargement I arranged some dried orange slices and pieces of star anice too.
If you want to know how to dry orange slices read "Orange-decorated Christmas tree".
- Then I prepared some little bundles made with rose berries.
You have not to cut faded roses. Their fruits come bigger and bigger, become berries and then take on different colors, from green to orange and red in fall.
So they become very beautiful decorative elements.
At this point cut them and tie together with a little string.
Don't trim them off too early because they shrivel quickly.
- Complete your centerpiece with these little bundles.
- If you want to preserve this floral arrangement you have to insert all greens in the specially provided floral foam.
Remember to keep it damp and don't put the composition near heat sources.
Rate this!
Rating: 5 / vote cast: 1