Feathers at Christmas
Holiday idea to decorate inside: feather boa
Christmas decorations with feathers are very fashionable at this time. I realized two of them trying not to fall into vulgarity. In fact, feathers are beautiful but it's very difficult to do a refined elegant decoration. So I propose simple solutions: the only precaution is to choose right colors and well-matched ornaments. I begin with the first, the second is a beautiful spiraling tree (its link below!).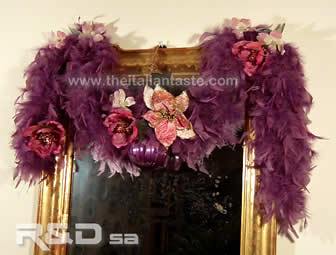 How to make a Christmas decoration with a feather boa
- The first thing is to choose the color you prefer.
I chose purple because it's in the latest fashion.
Then it's necessary to think of the color scheme.
I decided to combine pink in different shades, white and lilac to purple.
They're the best colors according to my taste for a chic Xmas ornament.
- As you can see in the photo I placed my decorated feather boa around the gilt frame of a mirror.
That's cool, isn't it?
- I began decorating my feather boa fixing a big purple-colored Christmas ball in the middle.
I helped myself with a piece of golden cord.
The cord must be thin to hide it easily among the feathers.
Look well at the photo: this Christmas ball is iridescent to have the best result.
- Then I fixed a silk poinsettia to have a lighter pot near purple ball.
Its dark and light pink petals are perfect there, aren't they?
Poinsettia is sprinkled with golden color at its edges.
Don't choose Christmas flower too golden.
Your Christmas decoration could be showy and not refined.
- There are other three big flowers as you can see in the photo.
They have dark pink petals and golden sparkling is focused in the center.
- Complete your Christmas decoration with some small flowers distributed in different places.
Notice their colors: white and lilac. All their surface is sprinkled with iridescente flakes: very refined!
- What about this Christmas decoration?
You can place it in your sitting or dining room, hall, around a mirror as I did or around the upstand of a sideboard, on a wall, on the door ...
- And then ... you can use again this feather boa for another Christmas decoration idea.
Look at this spiraling Christmas tree.
It's stylish and nice, isn't it?
- Here are some tips to use your feather boa all year and not only at Christmastime.
- You can substitute all Christmas ornaments with simple silk flowers according to the same color scheme.
- If you have to plan a celebration party you could lay the table using your feather boa.
For example you could pin it to the border of the table cloth if the table is set against the wall for a buffet party.
Rate this!
Rating: 5 / vote cast: 1