Christmas tree with Santa's game
Your Christmas tree gets you into a game: what is Santa doing?
This DIY Christmas tree is an exclusive idea of mine and is dedicated to kids. It is decorated with decoupage ornaments made with Santa Claus images. And kids can play with it ... they have to answer some questions about Santa. Read more below ... Here's another Christmas tree-game with gnomes!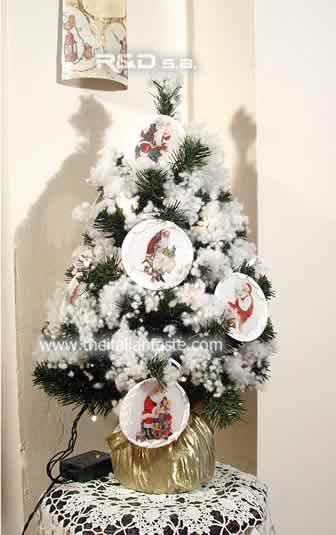 You will need
- An artificial pine
- Multi function LED string lights in white color
- Artificial snow
- Images of Santa at work
- Some separators of transparent plastic balls
- White ribbon
- Paste snow
- Decoupage glue
- Spray glue
- Scissors
- A little brush
To make the decorated roof tile
- Roof tile made with white board for the questions about Santa
- A gold leaf sheet or gold leaf flakes
- Special glue for gold leaf
- Images of Santa at work
- A little piece of lace you don't use
- Glitter
- Repositionable glue spray
- Protective varnish spray (if you want)
How to make a DIY Christmas tree to play with your children
It's a new idea of mine. Decorating this Christmas tree means playing with your kids. What is better than making simple craft ideas and playing with your kids to get into the Holiday spirit?
The game consists in guessing what Santa Claus is doing at his home before his departure on Christmas Eve.
Obviously you will need detailed images of Santa Claus while he is preparing the gifts or making anything else.
You'll have fun with your kids choosing the images of Santa ideal for this game, thinking of the right questions, preparing the ornaments, adorning the Christmas tree and then playing with all your guests and family.

But there is another surprise. Certainly you're wondering how this new idea of decorating the Christmas tree occured to me.
You have to know there is a new character in the world of fairy tales: Fairy Elle. Visit her website and know her.
She loves reading and while she's reading she is able to cast a great spell.
A pine of the forest in which she lives gets into a decorated Christmas tree or other decorations such as this Christmas tree game.
This Christmas tree was born while Fairy Elle was reading the questions about Santa's habits on December days.
Why don't you offer your kids to cast the same great magic, too?
- Decorating this Christmas tree is very simple.
Choose the images you prefer on the newspapers or magazines or decoupage papers.
Get the media ideal for pasting these images.
I used some separators of the transparent plastic balls.
After glueing the images I applied some pasta snow on the edges.
Look at Christmas tree photos for more details.
Glue a little piece of white silk ribbon on the back to hang these ornaments to the pine branches.
Finish your decoration arranging the multi function LED string light and a lot of artificial snow.
- Then prepare the questions. I used a roof tile but you can use a simple A4 sheet.
The first thing is to download my questions and print them on a A4 sheet if my questions can be right for you. On the contrary you have to write the questions suitable for your images.
Then you could decorate simply this sheet or make something different.
If you like my roof tile look at the photo for more details.
Cut out the sheet with the questions according to the right size.
Glue it on the roof tile or your A4 sheet.
Brush the special glue for gold leaf around the cutting edge. Wait until the glue gets transparent and then apply the gold flakes.
Let them dry very well and then uniform all rubbing vigorously with a brush.
Glue other little images on the roof tile and make the same steps described above with their cutting edge.
Apply some repositionable glue spray to the free surface of your roof tile and position the lace on the top. Pour the Glitter over the top. Remove the lace.
When done, spray a layer of the protective varnish spray.
Your roof is ready!
- You may be interested in the Christmas tree with gnome game too!
- I'm waiting for your comments ...
Rate this!
Rating: 5 / vote cast: 1