Christmas tree with gnomes
Christmas game: recognize the gnomes
Would you like a Christmas tree with which to play with your children? what do you say to prepare Christmas balls with gnome images with them and then recognize every gnome thanks to a nice doggerel? The fun is guaranteed for the duration of the Holidays. Any child or adult who enters your house will play the game ... surely! Here's another Christmas tree to make your children play: a tree with Santa's home!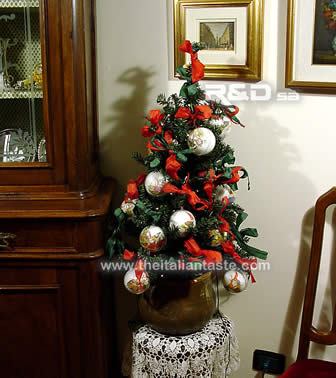 If you are interested in Christmas trees that play with your children you could see the Christmas tree with Santa's game too. If your children love Santa Claus and are eagerly awaiting his arrival let them look around at his home ...
There is the magic of the story in addition to the game ...
Tell your children this game was invented by the characters of Bosco.
To learn more about Bosco and its inhabitants visit our website "Fairy-Elle.com". The site is dedicated to Fairy Elle, the fairy kid. Bosco is a world of fairy tales and Fairy Elle is its main character. The Gnomes who live with her invent games and when she reads their instructions a pine-tree of Bosco gets into a decorated plant. Thus the tree-game was born. Children can "remake the magic of Fairy Elle", recreating the same tree or the same game.
Decorating this Christmas tree means to play and get into a new story with your children. What's better than reading a story and play with your children, especially at Christmas time? spending time with them is the greatest gift you can give them :))
Start by reading the scroll on Fairy Elle's website to know the background and the doggerel on which to set up this game. What is this game? To each gnome his name!
Christmas tree ball with gnomes how-to

- First of all get gnome images like those you can see in the photos.
I used a decoupage sheet by Calambour. This website, nomdeplume.eu, sells Calambour products. Here's the sheet I used.
Obviously you can also use other subjects or images of gnomes from other manufacturers inventing a similar game with your children.
- Cut out the images.
- Moisten each image with a well squeezed sponge.
- Brush a thin layer of glue on the visible side of every image.
- Press every image on the inner side of a ball so that the image is visible from the outside.
- Use your thumb and try to position you image carefully before the glue hardens and eliminate the folds eventually formed.
- Let your images dry very well.
- Fill the two halves of each ball with wadding and close them.
- Place white LEDs on your pine-tree.
- Hang your Christmas balls using the paper ribbon. I chose red and green ribbons that remember gnome hats.
- Print Fairy Elle's scroll and hang it on the Christmas tree or place it near the tree.
The doggerel must be read easily.
- Your Christmas tree is ready!
here it is gnome doggerel

Tina and Amuke here are
with two children with no flaw.
Terry and Luke they are
and go on the seesaw.
Tina likes to dance
but only with Arnold she does
because Amuke doesn't dance
other things Amuke does.
Amuke in the bagpipes blows
when gnomes celebrate,
and Bortolo his chest blows
as singer to all fascinate.
Bortolo Mila's husband is,
Mila for raspberries goes and look
so Bortolo that food lover is
soups for all his friends can cook.
And if something left,
with bread and soup in hand,
in the night walks deft
to feed who has nil in mouth and hand.

Arnold likes walking,
pannier or backpack he goes,
mail to all is bringing
and to all a greeting does.
Arnold Lucy's husband is
and Lucy spends her time sewing
for one that in the cradle is
because Mary is still growing.
For Mary who in the cradle is
and Terry and Luke on the seesaw
Amuke that farmer is
new earth digs after the thaw
And now that all the gnomes you know
could you tell each one of them?
Difficult is not, come ... no?
no fear ... it's a game ... then?
And now ... enjoy!
If you don't find the same decoupage paper you can play looking at our pictures!
Rate this!
Rating: 5 / vote cast: 1