Window Christmas decoration
It's enough a pine garland and some red cloth ribbons to embellish a window
Simple and fast Christmas decorations, maybe to do with your kids, but at the same time beautiful and charming? Here's one for you. A beautiful artificial pine garland around the window. How is it decorated? with ribbons of red cloth garnished with decorative buttons (cheap) and with red lights to be in the same shade of color. I've already used these ribbons of red cloth. Look at Christmas garland with red ribbons. It's easy to recycle the decorations of previous years.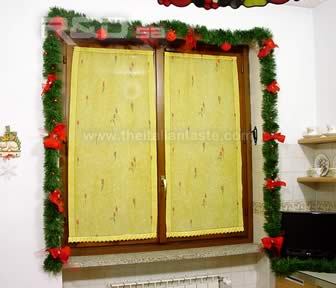 You'll need
- Pine synthetic garland adaptable to your window dimensions
- Red cloth
- Red tulle
- Decorative buttons
- Red fairy lights
- Red Christmas balls
- Scissors
- Glue
- Nails
How to do a decorated garland for a window in Holiday Season
- Read our directions to do red ribbons on this page: a garland with red ribbons
Excellent example of how the same Christmas decorations can be recycled with a little fantasy.
- Fix your garland around the window with some nails on the frame.
- Arrange fairy lights hiding them among the pine.
- Tie red ribbons.
- Place red Christmas balls.
- Look at the photo for more details.
- Your Christmas decoration is ready!
- If you want to keep the magic of Christmas in the following months (all year round) don't remove completely your decor. Let the garland of pine around the window and decorate it with ornaments according to the season.
Rate this!
Rating: 5 / vote cast: 1