Roasted chicken salad

( Pollo arrosto a sorpresa )
Our original home cooking
Roasted chicken salad is a tasty dish, ideal for a meal, buffet-style or a cold dinner menu. Test my version of chicken salad. Everyone will like it. Chicken salad recipe with calories, fat and sugar. Look for matched wine and a full menu below.
difficulty: easy
time: 1 h 10 minutes
calories: 403 (kCal)
Ingredients / Serves 12
2

1kg (4.4 pounds)

roast chickens

400g (14 ounces)

cherry tomatoes

1kg (2.2 pounds)

potatoes

4 tablespoons

mayonnaise

Bunch fresh chives

3 tablespoons

extra virgin

olive oil

Salt
Difficulty:

easy recipe

Time:

preparation:

45 minutes


cooking:

25 minutes

(for potatoes)
total:

1 h 10 minutes

How many calories in a serving?

Calories:

403 (kcal)

21 %

- 1686 (kJ)
Protein:

33.3 (g)

67 % GDA


Total fat:

24.2 (g)

35 % GDA


Total carbohydrate:

13.7 (g)

6 % GDA


Sugars:

1.5 (g)

2 % GDA
Download free PDF version (52 download).
Recipe for roasted chicken salad
Preparation and cooking
- Prepare vegetables.
Steam potatoes and let them cool.
Wash tomatoes.
Pat dry with absorbent kitchen paper.
Cut each one into two halves or quarters according to their size.
Wash chives and pat dry with absorbent kitchen paper.
Peel potatoes and cube them.
- Bone chickens.
Bone the two chickens after taking away their skin.
The operation shouldn't be difficult.
Cut meat into little pieces.
- Prepare your salad.
Combine all these ingredients in a large bowl.
Season to taste with salt and olive oil.
Add mayonnaise and chopped chives too.
Stir gently.
Just before serving
- Let chill at least 2 hours before serving but bring back to room temperature to serve.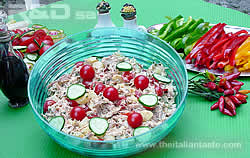 Note
Tips
- Cut chives with scissors or ceramic knife to prevent oxidation.
- You can make this cold dish some hours ahead, in the morning for evening.
If you have any leftovers, don't worry. You can eat chicken salad the day after.
But chill it!
- You can see two photos. In the first photo raw tomatoes are substituted by tomato confit. It's my best version of this recipe. The second photo shows you the recipe with raw cherry tomatoes.
Menu planning
- I don't suggest you to prepare this chicken salad for your family menu. It's ideal for your summer get-togethers.
- Read the next paragraph for specific get-together menus.
Useful links for this recipe
Healthy eating
- Little to say on this cold dish with chicken. Essentially it's special for your summer get-togethers or ceremony menus or meal, buffet style as I've just written not for your daily menu. Give a look at its calories and fat! You have to consider that the portions on which I made calculations are quite small!
- Fiber per serving: 1.8g
Loretta
What's the right wine for " Roasted chicken salad "?
My husband and I generally match Verdicchio dei Castelli di Jesi (white wine of Marches) or another white Italian wine with this chicken salad.