Roast turkey breast roll

( Arrosto autunnale )
Our original home cooking
This turkey roll is an autumnal recipe. Its stuffing is made with red cabbage, pumpkin and veal sausage. The roll is cooked with fresh or frozen mushrooms. This dish requires a bit of time and effort but it will impress your guests, really! Prepare it for a formal meal or if you have to celebrate anything at home. I created it for a birthday dinner and it was successful.
difficulty: medium
time: 2 hours
calories: 314 (kCal)
Ingredients / Serves 4
500g (1.1 pound)

turkey breast in a slice

300g (10 1/2 ounces)

red cabbage

400g (14 ounces)

pumpkin

70g (2 1/2 ounces)

veal or pork sausage

600g (1 1/3 pound)

fresh mushrooms

50g (1 3/4 ounce)

shallot, finely chopped

1 tablespoon

dried chives

1 tablespoon

dried parsley

1

dried bay leaf

250ml (8 1/2 flui ounces - 1 cup)

dry white wine

2 Tbsp plus 1 tsp

extra virgin olive oil

Paprika

Salt
Difficulty:

medium

Time:

preparation:

about 30 minutes


cooking:

about 90 minutes


total:

2 hours

How many calories in a serving?

Calories:

314 (kcal)

16 %

- 1315 (kJ)
Protein:

40.3 (g)

81 % GDA


Total fat:

14.2 (g)

21 % GDA


Total carbohydrate:

6.6 (g)

3 % GDA


Sugars:

5.8 (g)

7 % GDA
Download free PDF version (159 download).
Recipe for roast turkey breast roll
Preparation and cooking
- Prepare the filling.
Clean and steam pumpkin.
Mash pumpkin with a fork.
Season to taste with salt and stir.
Clean and steam red cabbage and cut it into thin strips.
Season to taste with salt and stir.
- Clean mushrooms and cut them into pieces.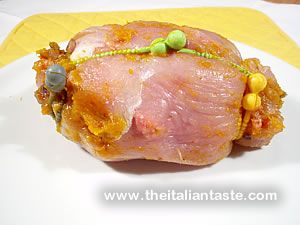 zoom »
- Prepare the stuffed breast roll.
Open your turkey breast and pound well with a meat mallet.
Season to taste with salt and spread the sausage on top uniformly.
Then spread pumpkin and sprinkle with paprika.
Finally arrange red cabbage strips.
Roll up and tie with kitchen string or food loop TOP SILICONE by Tescoma.
You can see how I tied my breast roll in the photo.
If you have pumpkin or red cabbage left, add them to mushrooms.
- The cooking.
Put shallot, olive oil and turkey roll in a pan.
Sauté for five or more minutes until brown, turning frequently, on medium heat.
Add wine and bring to the boil.
Cook for five minutes, turning frequently.
Pour in a ladle of hot water and add aromatic herbs and mushrooms.
Season to taste with salt and keep on cooking, half-covered, turning and stirring frequently, until your meat is tender, on low heat.
Add other hot water only if necessary.
20-30 minutes are enough.
Just before serving
- Let your stuffed turkey roll cool.
Slice it and place all slices again in the pan.
Warm up just before serving.
While you are warming up your turkey roll slices don't turn over them! So you are sure not to break them.
Note
Tips
- You can also use frozen mushrooms.
- Prepare the turkey roll in advance, the day before, and cut it into slices just before warming up.
- Choose the mushrooms you prefer. The best choice is assorted mushrooms included wild mushrooms (porcini)
Menu planning
- If prepared for a menu with a lot of courses the doses are enough for more than 4 people.
- Among my thematic menu you will find a fall menu, also valid for the period of transition between summer and autumn in which there is this roast dish. Link below.
Useful links for this recipe
- You could be interested in mushroom details too.
- Here's the link to fall menu. It's a menu, Italian style that starts with antipasto and sees its end with a dessert. So you can find a tasty antipasto idea, a first course with rice, this roast turkey breast and a delicious Piedmontese dessert.
Healthy eating
- The following information is valid if you want to prepare this roast turkey breast for your family menu.
Its calories are not excessive but the amount of proteins is clear: you should choose mostly carbohydrates (pasta or rice) seasoned with a vegetable sauce for the other meal of the day to avoid a surplus of proteins.
Complete your meal with this turkey dish serving light vegetables, a portion of bread (50g) and fresh fruit.
- Fiber per serving: 5.1 grams
Loretta
What's the right wine for " Roast turkey breast roll "?
My husband and I suggest you to pair Vermentino di Gallura (white wine from Sardinia - Italy) to this autumnal turkey roll.