Themed dinner menus
From zucchini blossoms to pumpkin
That is .... flavors of summer and fall.
This Italian-style menu is ideal for people who want to use seasonal food but what's the meaning of the title?
We are between September and October. It's the period in which, at local market, we can find zucchini blossoms and pumpkin. We used both these vegetables and other food typical of these months: mushrooms, chicory, red cabbage, fresh beans in their pod, grapes, dried walnuts (suitable all year).
We remember you a typical Italian menu is composed by: antipasto, first course (pasta or rice), second course (fish or meat), assorted cheeses (only at lunch) and, finally, a dessert. This is a menu example for a special occasion.
The wines. We chose two different wines to accompany this menu according to the principle that you should drink little but well. The first is Valpolicella (a red wine of Veneto), ideal for rice with beans but it matches very well with the starter and turkey roll too. At the end you could serve Brachetto d'Acqui to accompany this soft and tasty cake of Piedmont. It is enough sweet soft, delicate and aromatic
You can prepare in advance the most ingredients of the assorted antipasto (starter), the turkey roll and the cake. Risotto must be cooked at last minute.
You can read step-by-step instructions to plan your times perfectly below.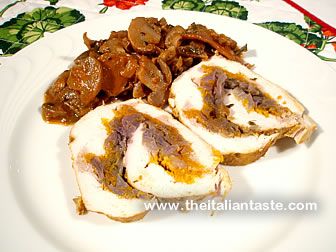 zoom »
Shopping list
The following shopping list serves 2. Multiply the doses according to your guests.
For assorted antipasto
8 to 10 chamois salami slices (or salami from wild game)
8 quail eggs
Some chicory leaves
4 walnuts, shelled
8 white grapes
1 tablespoon mayonnaise
For zucchini blossom flan (antipasto)
30 g (1 1/4oz) zucchini blossoms
1 200 g (7 1/4oz) can beans
1 quail egg
2 anchovy fillets in oil
Half a tablespoon capers in vinegar
2 to 3 tablespoons plain dried breadcrumbs
15 g (1/2oz) stale bread
For risotto (doses have already been corrected compared to the recipe since portions must be surely reduced in a complete menu with a lot of courses)
250 g (8 3/4oz) fresh beans in their pod
100 g (3 1/2oz) rice
Half a celery stalk
Half a carrot
1 fresh young onion
125 g (4 1/2oz) puréed tomatoes
120 ml (4 1/4fl oz) red wine
400 ml (14 1/4fl oz) vegetable stock
For turkey breast roll
250 g (8 3/4oz) turkey breast in a slice
150 g (5 1/4oz) red cabbage
200 g (7 1/4oz) pumpkin
35 g (1 1/4oz) fresh sausage
25 g (1oz) shallot
125 ml (4 1/2fl oz) white wine
300 g (10 1/2oz) fresh mushrooms
Assorted green salad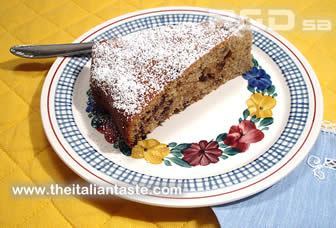 zoom »
For ricotta cake (it serves 12)
220 g (7 3/4oz) all purpose flour plus extra for dusting
200 g (7 1/4oz) ricotta cheese
40 g (1 1/2oz) sultanas
150 g (5 1/4oz) sugar
150 g (5 1/4oz) unsalted butter
2 eggs
100 g (3 1/2oz) plain chocolate
1 organic lemon
1 teaspoon vanillina powder
16 g (1/2oz) baking powder
100 ml (3 1/2fl oz) rum
50 g (1 3/4oz) icing sugar
Don't forget:
Extra virgin olive oil (1 tablespoon for antipasto, 1 tablespoon for zucchini blossom mini-flans, 1 tablespoon for risotto, 1 to 2 tablespoons for turkey roll plus the amount for dressing seasonal salad)
Aromatic herbs (parsley, chives, dried bay leaves)
Green seasonal salad
Fresh seasonal fruit
Bread
Salt
Coffee
Wine and water
Step-by-step instructions
The day before.
Prepare the cake. The ricotta cake is a typical Italian dessert to finish a dinner or lunch menu of Piedmont.
Shell the fresh beans and cook al dente stage. They shall be cooked again together with the rice. Drain the beans, let them cool and chill. More details on the page dedicated to risotto with borlotti beans.
Prepare the filling for turkey roll.
The party day.
Prepare, cook and cut into slices. Place the the turkey slices again in the pan.
Clean and wash all the green salad included chicory. Chill until serving.
Prepare the zucchini blossom mini -flans in order to serve them warm or cold (take them away from the oven at least an hour before).
Prepare the basic ingredients for risotto according the instructions on the recipe and the vegetable stock necessary for its cooking.
Boil the quail eggs and let them whole. Put them apart.
Clean the grapes, halve and remove their seeds.
Just before your guest arrival.
Open the wine bottles (only Valpolicella).
Prepare the assorted antipasto. Cut the salami, halve the quail eggs and garnish them with mayonnaise. Dress the chicory according to the instructions on the assorted antipasto recipe and prepare the platter, flans included. Look at the photo for more details.
Transfer the green salad that must accompany the turkey roll into a large bowl. You'll have to dress it just before serving.
Cook the risotto in order to complete its cooking just before your guests come. Use a rice quality that doesn't overcook! In this way you can let your risotto "rest" and serve it warm. It will be very tasty!
Cut the bread.
Just before serving.
Warm up the turkey roll and mushrooms while your guests are finishing the risotto. Dress the green salad.
If you plan your dinner or lunch following our tips you'll be able to enjoy the party completely!