Seafood salad

( Insalata di mare )
Our original home cooking
The seafood salad that I'm going to tell about is a recipe that my guests find delicious even though I use frozen clams and shrimps. The weather is sometimes a real tyrant, isn't it? All the steps on the clams require time: removing sand, open them and then removing the molluscs themselves from their shell. Cleaning shrimps requires other time. So when I'm struggling with a menu based on fish that is always hard-working and I want to prepare seafood salad, I rely on this tested recipe of mine.
difficulty: easy
time: 1 h 50 minutes
calories: 308 (kCal)
Ingredients / Serves 4
800g (1 3/4 pound)

fresh octopus

400g (14 ounces)

fresh squids

200g (7 ounces)

frozen clams, shelled

200g (7 ounces)

frozen shrimps, shelled

12

green stuffed olives, sliced

1

celery stalk, cleaned and washed

1

carrot, peeled

1

little onion, peeled

1

sun-dried tomato, soaked

1

dried bay leaf

2 tablespoons

dried parsley

2 tablespoons

dried chives

2 tablespoons plus 1 teaspoon

extra virgin olive oil

Lemon juice

Salt
Difficulty:

easy recipe

Time:

preparation:

20 minutes


plus thawing time
cooking:

1 h 30 minutes


total:

1 h 50 minutes

How many calories in a serving?

Calories:

308 (kcal)

16 %

- 1290 (kJ)
Protein:

41.2 (g)

83 % GDA


Total fat:

13.4 (g)

20 % GDA


Total carbohydrate:

5.8 (g)

3 % GDA


Sugars:

4.4 (g)

5 % GDA
Download free PDF version (170 download).
Seafood salad recipe
Preparation and cooking
- Some hours before.
Let shrimps and clams thaw but remember to put apart all clam liquid.
- Cook octopus and squids.
Bring to a boil abundant water in a pot together with celery, carrot, onion, sun-dried tomato and bay leaf.
Meantime clean octopus and squids, keeping them whole.
Put octopus and squids in boiling water.
Bring to a boil again, lower heat and simmer at least for 50 to 60 minutes.
Let octopus and squids cool in their cooking water.
- Prepare clams.
Let clams cook in their liquid for few minutes, on high heat.
Let cooking juice reduce very well.
Add 1 tablespoon chives, 1 tablespoon parsley and shrimps too just before turning off the stove.
Let all flavor, stirring.
Turn off the stove.
- Assemble your dish.
Cube octopus and cut squids into strips directly in a bowl.
Add clam-and-shrimp mixture, remaining aromatic herbs, olives.
Season with extra virgin olive oil.
Stir, season to taste with salt and complete with lemon juice according to your own personal taste.
Just before serving
- Let your seafood salad rest for some hours.
Serve at room temperature.
- Serve your seafood salad in a large bowl or in individual bowls on a leaf of lettuce and a slice of lemon and orange as a topping.
Note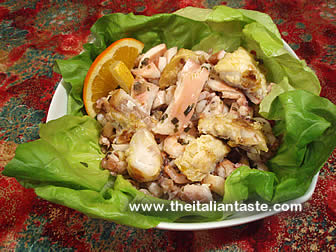 zoom »
Tips
- If you have no sun-dried tomatoes, use fresh tomato.
- Prepare this seafood salad in the morning for your dinner or the night before for the lunch of the day after. Keep it in the refrigerator and bring to room temperature an hour before serving.
- Who likes garlic can add a clove assembling the dish and remove it just before serving. I prefer not to use it for a variety of reasons. When I have guests I add no garlic, more and more people tolerate it no more. If the quality of your ingredients is good the taste of this seafood salad is exceptional because molluscs and crustaceans are mixed with each other and herbs perfectly!
- I don't add mussels in my seafood salad. A lot of people don't like them and in the past my husband and I have very often noticed they were discarded. If you don't know the taste of your guests, solve the root problem as I do.
- Seafood salad ingredients are widely enough for 4 people when it is served as a second course accompanied by a side dish (seasonal cooked vegetables or a green salad). If you serve this seafood salad as a starter, its ingredients are enough for 8 to 12 people. Everything depends on how many dishes you are planning to add.
- Another seafood salad of mine: octopus, prawns, clams, squids and grouper fillet are the ingredients. More or less the proportions are the same. Use a smaller octopus (600g - 1 1/3 pound) and 300g (10 1/2 ounces) grouper fillet. To cook grouper fillet follow these steps. Fry a fresh onion, thinly sliced, in a tablespoon of olive oil. Add grouper fillet and fry until golden on both sides. Pour in 1 orange juice and add a tablespoon of chives and a tablespoon of parsley too. Go on cooking, half-covered. You will probably need to add a bit of boiling water if your fillet is very thick as it happens frequently. At the end, brown your fillet on both sides. Then cut it into chunks with scissors and add them to the other ingredients. In this case I don't add stufed olives.
Menu planning
- I have already mentioned something in the previous part. My seafood salad is a great second course but, since it has long cooking times, I always suggest it for your weekend menus.
It can also be an idea to assemble an assorted appetizer platter for a full fish menu in a lot of occasions: a get-together with your friends, alfresco dinner in summer, fish dinner party on Christmas Eve or New Year's Eve. Give a look at my thematic menus.
- I often choose it when I have to plan a meal, buffet-style. It is very practical and you can safely eat without major problems. Besides you can prepare it in advance :))
Healthy eating
- The richness of fish makes this seafood salad a dish rich in protein that, anyway, may be chosen as a second course in a reasonable portion. Complete your meal with seasonal vegetables, poorly seasoned, and a bread portion.
- The amount of fibers, of course, is irrelevant. Only 0.4 grams. That's why you have to abound with vegetables.
Loretta
What's the right wine for " Seafood salad "?
My husband and I match Verdicchio dei Castelli di Iesi (white wine of Marches) to this seafood salad. We like it very much but you can chhose your favorite white wine.