Risotto with sparkling wine

( Risotto allo spumante )
Authentic Italian recipe
Risotto with sparkling wine is a classic dish of Italian cuisine. Very easy to do but also so refined that can be suitable in a special occasion menu too. Being very delicate it is ideal when you want to prepare different tasting of pasta because it does not cover the flavor of other dishes.
Remember to use good-quality ingredients for the best results.
difficulty: medium
time: 30 minutes
calories: 479 (kCal)
Ingredients / Serves 6
2l (4 1/4 pints)

chicken broth

250g (8 3/4 ounces)

leeks

2 tablespoons

dried chives

300ml (10 fluid ounces - 1 1/3 cup)

dry sparkling wine

3 tablespoons

olive oil

250ml (8 1/2 fluid ounces - 1 cup)

cooking cream

Salt

Grated Parmesan cheese, if you like

480g (17 ounces)

long-grain, parboiled

rice
Difficulty:

medium difficulty

Time:

preparation:

5 minutes


cooking:

25 minutes


total:

30 minutes

How many calories in a serving?

Calories:

479 (kcal)

24 %

- 2005 (kJ)
Protein:

7.6 (g)

16 % GDA


Total fat:

21.5 (g)

31 % GDA


Total carbohydrate:

68.1 (g)

26 % GDA


Sugars:

3.3 (g)

4 % GDA
Download free PDF version (560 download).
Sparkling wine risotto recipe
Preparation and cooking
- Prepare chicken broth for risotto.
Season to taste with salt.
Remembe to keep it boiling while cooking your risotto.
- Prepare risotto.
Clean and slice leeks.
Add olive oil and leeks in a large saucepan.
Fry lightly leek over very low heat, stirring frequently.
Then add rice.
Cook until rice looks milky, 3 to 4 minutes.
Pour in sparkling wine and simmer until absorbed, stirring now and then.
At this point add 2 ladlefuls of chicken broth and simmer until absorbed, stirring now and then.
Continue adding stock, ladle by ladle, until rice is tender.
A minute before the end of cooking, add cooking cream and chives.
Just before serving
- Let it rest for a couple of minutes before serving.
- Accompany with a little bowl full of freshly grated Parmesan cheese.
Every guest will serve himself according to his own taste.
Note
Tips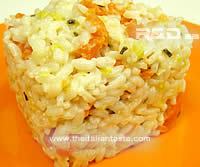 - If you are in season use fresh chives for a tastier flavor.
- You can use capon broth too during the Holiday season. Your sparkling risotto will taste fantastic!
- A great variation that I experienced when I set up the wedding reception and menu for friends who celebrated at home was to add smoked salmon cut into strips together with cooking cream and chives.
Great idea for a seafood dinner for the Holidays too.
The amount of salmon with this rice dose can vary from 150 to 200g (5 1/3 to 7 ounces). It depends on what importance has this rice dish for you. For me, on the occasion that I've just mentioned, it was the last course of a meal, buffet-style so I abounded with salmon ;)
Menu planning
- Those who love fine cuisine and have no problems with fats can prepare this risotto with sparkling wine for their family menu.
But I suggest it more willingly as a first course for an important occasion menu, for example in an baptism if you want to set up a white menu.
- In the choice of other dishes to match, however, follow these recommendations of mine:
avoid starters with cured meats whose flavors are too decided;
do not choose dishes with red meat but prefer white meat (there are some excellent dishes with rabbit and poultry);
regarding fish I have always paired this sparkling risotto with seafood or shellfish salads, scallops, turbot, red snapper, sea bass or sea bream or salmon in equally refined preparations. Look for example at turbot fillet rolled or scallops au gratin or prawns with orange to get an idea.
Useful links for this recipe
Healthy eating
- Cooking cream presence makes sparkling wine risotto certainly not low-calorie. But the amount of ingredients that generally I use keeps calories under control.
- Nutrition facts are without Parmesan cheese.
- If you prepare this risotto for your family menu and sprinkle it with Parmesan cheese you can complete your meal only with fruit.
Without Parmesan the margins for a second course are very few: 50g (1 3/4 ounce) raw ham (ie one serving) or seasonal vegetables dressed with a teaspoon olive oil per serving.
And no bread, of course ;)
Loretta
What's the right wine for " Risotto with sparkling wine "?
Pair the same sparkling wine used to cook risotto.