Turbot fillet rolled and stuffed with salmon and broccoli

( Arrostino di rombo )
Our original home cooking
We are used to do meat roast but look here: a fish roast made ​​with a turbot fillet enough big to be rolled up. In fact I discovered this fish fillet rolls up very well. Inside salmon into thin slices and broccoli stew. The result is a really tasty dish, worthy of a great lunch or a gourmet dinner.
difficulty: medium
time: 1 hour 15 minutes
calories: 236 (kCal)
Ingredients / Serves 4
700g (1 1/2 pound)

turbot (or halibut) fillet

in a piece

1 200g (7 ounces)

leek, finely sliced

20g (3/4oz)

dried tomatoes, chopped

150g (5 1/3 ounces)

steamed broccoli

10g (1/3 ounce)

pine nuts

1 200g (7 ounces)

orange

100g (3 1/2 ounces)

thinly sliced fresh salmon dressed with olive oil, lemon and salt

1 tablespoon

dried chives

1 1/2 tablespoon

extra virgin olive oil

Salt
Difficulty:

medium difficulty

Time:

preparation:

20 minutes


cooking:

50-55 minutes


total:

1 hour 15 minutes

How many calories in a serving?

Calories:

236 (kcal)

12 %

- 988 (kJ)
Protein:

24.7 (g)

50 % GDA


Total fat:

12.0 (g)

18 % GDA


Total carbohydrate:

7.8 (g)

3 % GDA


Sugars:

7.8 (g)

9 % GDA
Download free PDF version (194 download).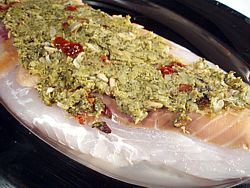 zoom »
Recipe for turbot fillet rolled
Preparation and cooking
- Prepare broccoli.
Put leek in a non-stick frying pan together with a tablespoon of olive oil.
Let all fry on low heat for two minutes, stirring now and then.
Add broccoli, dried tomatoes, pine nuts and season to taste with salt.
Cook for some minutes stirring now and then.
- Prepare fish fillet rolled.
Place turbot fillet on a chopping board.
Arrange salmon slices on turbot surface and then spoon broccoli mixture on salmon as you can see in the photo.
It isn't necessary to season to taste with salt because salmon and broccoli are already salty.
Roll up turbot fillet and season to taste with salt.
Tie with kitchen string.
You can also use food loop TOP SILICONE by Tescoma.
Close the ends with a big toothpick as you can see in the photo.
Squeeze the orange.
Preheat the oven to 180°C (350°F).
Mix orange juice with remaining olive oil and chives.
Pour it into a baking pan and then place fish filler rolled.
- Baking.
Bake for 40 to 45 minutes basting fish with its cooking juice often.
Just before serving
- Cut into thick slices and serve immediately sprinkled with cookin juice.
Note
Tips
- Choose a large fillet in order to roll it up easily.
- You have to prepare more than one fillet if you have a lot of guests. Same tip if you find small turbot fillets.
- You can prepare the fish some hours before cooking it and preserve it in the fridge. Bake just before serving it.
- Look at the photos for more details. The two photos were taken before baking.
Menu planning
- This is a very special recipe for a great menu. It's a boneless fish suitable to be served to children too.
- The best season for this turbot recipe is winter when you can find broccoli easily. Fall and winter are the best season for turbot too. Do you know that it woulfd be better to follow seasonality for fish too?
In fact I realized this recipe the first time for Christmas Eve dinner some years ago. I served assorted canapes with seafood matched with pomegranate cocktail before my guest sat at the table. Then lobster linguine. My second course was this fantastic turbot dish accompanied with seasonal green salad and olive bread. I closed my dinner with handmade panettone. I surprised all my guest!
You can find all links to suggested recipe in the paragraph below!
Useful links to this recipe
Healthy eating
- Nutrition facts of this turbot recipe makes it interesting as a dish to be included in your family menu too. The problem lies in the length of the preparation. The choice is yours.
In any case, in every day cooking you should prefer light dishes but tasty, quick-to-do recipes but satisfying and enjoyable to gather your family around the table. A combination that is not always easy to obtain. What do you think about? Keep in mind that our Mediterranean diet has its main pillar in conviviality, that is eating together in a pleasant way ;))
Loretta
What's the right wine for " Turbot fillet rolled and stuffed with salmon and broccoli "?
My husband and I prefer Sauvignon dell'Alto Adige (white wine from Trentino-Alto Adige - Italy) with this turbot recipe. On the contrary when I realized my recipe for the first time on the occasion of Christmas Eve dinner we began serving pomegranade cocktail and then we matched a very special sparkling wine: Prosecco di Conegliano Valdobbiadene Spumante (the most famous bubbles from Veneto in Italy).