("Minestrina", chicken & aubergines)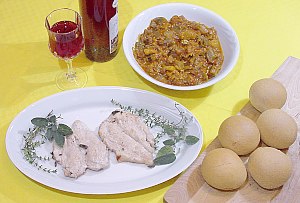 Time:
marinade: 2-3 hours
preparation: 45 minutes
cooking: 35 minutes
Difficulty:


easy recipes

Seasonal fruit

Wine:

Terre di Franciacorta (a white wine from Italy)
It is a simple menu, easy to do. You have to marinate chicken breasts 2-3 hours before cooking
but you need little time to make all the recipes.
You can find all the ingredients in every season but you can appreciate "minestrina" (rice in
broth with saffron) especially during cold months.
Greetings from Italy!