Themed dinner menus
Summer Menu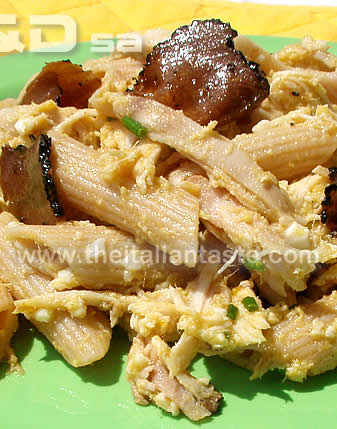 Menu
Marinated lamb accompanied with green seasonal salad and potatoes
Wines
This summer menu is thought for people that like to eat meat all year.
It is a typical Italian menu composed by its traditional courses: a starter (crostini), a first course (pasta salad), a second course (lamb with side-dishes) and dessert (watermelon jelly).
Lamb can be cooked in two ways according to your taste: grilled or baked. Grilled lamb is the ideal solution when it's very hot. Besides it's a quick-to-do recipe and tastes fantastic!
Pasta salad is made in two different steps. In the evening rabbit is boiled, boned and put in olive oil. In the morning the recipe can be completed some hours ahead.
You have to prepare only crostini (called also canapés) just before the arrival of your guests.
The dessert can be made the day before.
Accompany all meal with a red Italian wine known as Bardolino
If you want you can serve an aperitif too but my tip is: don't overdo! We are in summer, it's hot and digestion may be more difficult. If you can't but renounce an aperitif, serve non-alcoholic drinks.
Shopping list
Shopping list is for 6 to 8 people
For crostini
250g (8 3/4 ounces) mozzarella cheese
At least 300g (10 1/2 ounces) loaf or a baguette
4 ripe but firm tomatoes
For pasta
300g (10 1/2 ounces) short pasta (penne or rotini)
500g (1.1 pound) rabbit thighs
1 90g (3 1/4 ounces) can black truffle slices in oil
1 80g (2.8 ounces) can tuna in oil
For lamb
1.2 to 1.5kg (2 2/3 pouns to 3.3 pouns) leg of lamb cut into steaks
For dessert
1.3kg (2.9 pounds) watermelon to have 800g (1 3/4 pound) flesh
125g (4.4 ounces) low fat yoghurt
1 bottle sweet sparkling wine
25g (1 ounce) leaf gelatine
Hal a melon
2 Kiwi fruits
besides you will need
Anchovies in oil
Unsalted butter
3 eggs
Half an onion
Fresh young onions
1 carrot
1 celery stalk
Lemon
Bunch fresh chives
10 fresh mint leaves
Some sprigs fresh thyme
Oregano
Cinnamon powder
Icing sugar
White dry wine
Extra virgin olive oil
Salt
Don't forget wine, bread, coffee and water!
Step-by step instructions
The day before.
Prepare dessert and begin pasta salad recipe. Boil rabbit, bone and put it in olive oil together with tuna.
The party day.
Complete pasta salad recipe in the morning.
Marinate lamb in the morning.
Wash green salad and chill until serving.
Decide how to cook marinated lamb and plan the following steps according to the choice.
The same thing for potatoes.
Just before serving.
Cut bread, open wine bottle.
Remember to remove green salad from the fridge.
Prepare Neapolitan crostini.
Dress green salad.
Transfer watermelon jelly in the serving plate.