Themed dinner menus
A menu for our children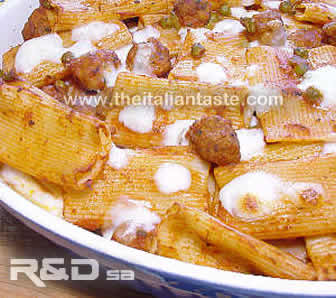 Courses
Orange juice
Wine
Cirò Rosa
Sweet sparkling wine
If you have to plan a menu for celebrating your child, you have to consider his taste. Generally children like pizza, potatoes, boned meat, baked Italian pasta especially when it has meatballs. Don't they? But they don't like vegetables ...
So we thought about a simple menu full of tasty dishes. We have also thought to Mother that hasn't too much time for cooking.
Open your menu with a tasty appetizer: pizza with ham. You can serve it with an orange juice and a cocktail for adults. Pizza dough can be prepared in advance; you could put it in the baking sheet with its topping some time before serving and bake it in the last minutes.
You could also prepare baked pasta many hours before and preserve it in the refrigerator. Bake it when you're eating your appetizer.
Stuffed rabbit is a tasty cold dish and so you can prepare and cook it in advance. Another suggestion is to precook potatoes and warm up them while you're eating the first course (pasta).
Sponge cake for dessert can be made the day before and garnished in the morning.
So Mother can be enjoy the party!
Serve a rosé wine (Cirò Rosa) with all dishes and some drinks for children.