Themed dinner menus
New Year's Eve Dinner, Italian style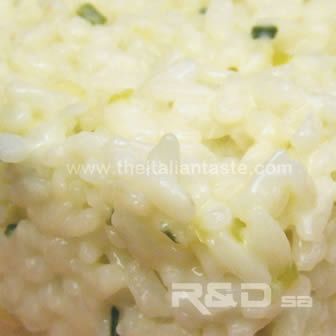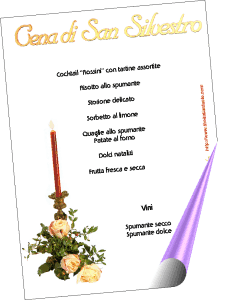 Menu template (MS Word zip file)
Italian New Year's Eve dinner menu with aperitivo, sparkling risotto, sturgeon, quails and potatoes, Christmas sweets and fresh fruit.
Tips
- This menu plan is based on sparkling wine, from appetizers to cakes.
Sparkling wine is served during all dinner instead of wine and it is an important ingredient in the different courses too.
- Rossini cocktail is prepared with strawberry purée and sparkling wine, both chilled.
You can serve it accompanied by assorted and colored canapés.
Butter white bread slices and top them with sliced wusterls, quail eggs, little pieces of salami, red and black caviar, paté de fois gras, back and green olives, sliced kiwi fruit, strawberries ... mayonnaise.
These canapés can be made 1 hour before your dinner.
- You have to cook "risotto", with sparkling wine too, just before serving while your guests are enjoying aperitivo.
- Sparkling wine is an ingredient of quails.
They too can be prepared in advance; let a little of cooking juice. Just before serving, you have to put the pan over a medium heat until sauce thickens.
- Sturgeon can be cooked just before your guests arrive. It can be served cold.
- If you plan all things very well, it isn't a binding dinner.
Besides it is delicate and refined.
Your guests will be surprised by this Italian menu.
- At midnight you could serve "zampone and lentils" according to an Italian tradition.
In this case you have to offer fruits and cakes after this dish.