Themed dinner menus
Italian refined menu for Holiday Season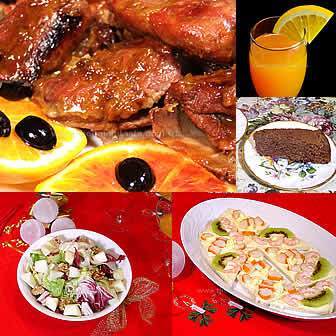 Italian Christmas dinner menu with aperitivo, spinach souffle, orange duck, chocolate cake, fresh fruit.
Tips
- This menu serves 4 and it is proposed for Christmas-time but it can be realized every time in the year too (for a birthday lunch or dinner, for a refined dinner).
- Its ingredients can be found all year round.
- Its courses aren't excessive and well assorted. Its taste is delicate.
- Seasonal fruits are the most important ingredients: oranges, apples and walnuts.
- But there are fish (canapès), meat (second course) and vegetables (souffle) too.
- The first course, typical in a full Italian menu, is replaced with spinach souffle, and this is the only course to be done at last minute, just before serving.
The other dishes can be made in advance.
- For example the sauce for canapés; then you have to cover and chill until its use. The same thing for fish.
- The duck can be cooked before and seasoned with orange juice some minutes before serving.
Salad greens can be washed and drained some hours before. Be careful! You have to peel apples at last moment to avoid they get dark.
- This menu is easy to do; the only difficult recipe is spinach souffle.
- I suggest to choose "Prosecco di Conegliano Valdobbiadene Cartizze" (a sparkling Italian wine from Venetia) as the only wine; in this way you haven't to change different wines and your lunch will be more refined.
- You have to serve a sweet sparkling wine with the cake.
- If you have any problem for changing quantities or replacing courses, email us, please!