Themed dinner menus
Good luck menu for the New Year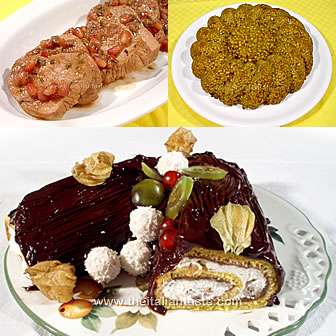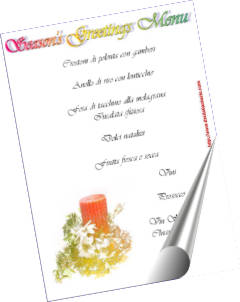 Menu template (MS Word zip file)
Italian New Year party menu with starter, baked rice with lentils, turkey breast with pomegranates, fresh and dried fruit and traditional Italian cakes.
Tips
- This is a typical Italian menu for Holiday Season and especially for New Year's Eve Dinner.
It's full of seasonal flavors: polenta, lentils, risotto, pomegranates, apples, sultanas.
Every course is made with countable ingredients (rice, lentils, pomegranate kernels, sultanas ...): in Italy we say people who eat them are in luck all the year! And so these ingredients are always on our table at New Year's Eve and the first day in the year.
- Another important thing is all my recipes can be prepared in advance; the best opportunity when you have guests.
Read my directions for every recipe to know what to do.
- My husband and I chose Italian Prosecco from appetizers to second course.
Changing wine is not the best thing.
You have to serve a dessert wine with Christmas cake.
Vin Santo is a very good dessert wine from Tuscany or Umbria.
Remember: do not serve dry sparkling wine with cakes!