Themed dinner menus
Italian Christmas cheap menu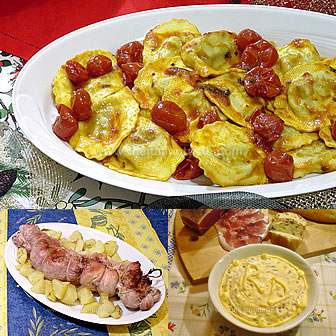 Italian Holiday Season menu with assorted antipasto, pumpkin ravioli, roast beef accompanied by Russian salad or green salad, fresh and dried fruit and Italian Xmas cake.
Tips
- Starter.
Prepare the shortcrust pastry for savory preparations and make some cookies with it.
After baking them, garnish with Italian Gorgonzola (blue-cheese) and walnuts or fresh cheese with herbs and walnuts.
Season some green olives according to Madrid style.
Prepare some little Italian pizzas made with sandwich loaf. They are very fast to do. Follow these directions: slice a sandwich loaf, cut every slice into two triangles, garnish every piece with tomato sauce (dressed with salt and olive oil), cubes of mozzarella cheese and, if you want, some capers and pieces of anchovies in oil. Bake few minutes and your little pizzas are ready!
You could also add slices of salami, halved hard-boiled eggs (whose yolks can be crushed with a fork and mixed with mayonnaise and tuna in oil) and Russian salad.
- First course. Pumpkin tortelli or ravioli (pasta rings), are ideal for a perfect Christmas lunch according to Italian style!
- Second course. To complete your menu you could prepare a stuffed rabbit to be served with baked potatoes.
If you do not like rabbit you could choose a duck cooked with fruits (that's cool!) or a pork loin cooked with apples.
Both two last dishes can be accompanied with a green salad.
- Dessert. Consult the dessert index where you can find the directions for panettone, pandoro, pampepato, panforte recipes to make at home.
- Matched wines. A sparkling wine is perfect to pair to all the dishes of this menu but remember that cakes must be served with a sweet sparkling wine.